Vanderbilt Restaurant Week
As folks in the know will tell you, Nashville is a great food city. From haute cuisine to the food truck scene, Nashville has a thriving culinary community. Twice a year, a group of local eateries – known as the Nashville Originals – offers menu specials for Restaurant Week, a celebration of "independent restaurants and local dining." It's a great way to try new places and support local businesses.
But at Vanderbilt you don't have to go off campus to get great food. In fact, with over a dozen locations, Vanderbilt Campus Dining offers the VU community a wealth of on-campus options. And since Campus Dining has won multiple awards for excellence, you're definitely going to want to try them all. Last week, in celebration of the high-quality eats on campus, I undertook my own "Vanderbilt Restaurant Week," in which I sampled some of what campus dining has to offer.
Here's a taste: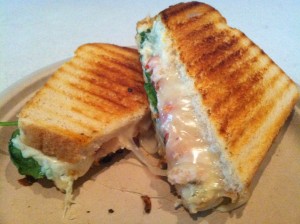 Monday @ Grins
Grins Vegetarian Café, located in the Schulman Center for Jewish Life, offers paninis, salads, wraps, and more, all prepared in a Kosher-bcertified kitchen. The name Grins comes from the Yiddish word for vegetables, and is pronounced like the word greens. I try to keep this straight by remembering the focus on vegetarian fare, but I usually slip and pronounce it wrong anyway. Whatever you call it, the food is excellent. On Monday I had the caprese panini, a grilled sourdough sandwich filled with marinated tomatoes, basil pesto aioli, baby spinach, and mozzarella. What makes this a great sandwich is the perfect combination of the melted mozzarella, the tangy marinated tomatoes, and the crunchy toasted bread.
Tuesday @ The Ingram Commons
The Commons Center dining hall, the primary dining option for first-year students living on The Martha Rivers Ingram Commons, offers a wide-range of options, all of them delicious. From the brick-oven pizza to the extensive salad bar to the wok station, I often find it hard to choose because everything looks so good. My usual go-to meal at The Ingram Commons is the salmon with steamed vegies at the Chef's Table. Last week, however, I went with a customized salad, chicken fingers from the grill, and a giant slice of chocolate cake, one of the incredible dessert options that are always on display.
Wednesday @ Bamboo Bistro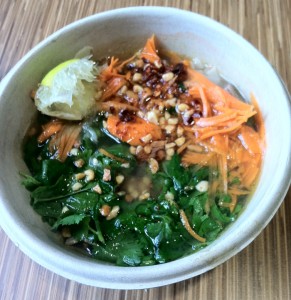 Bamboo Bistro in Alumni Hall is a new addition to the campus dining scene, serving Asian-inspired options like bahn mi sandwiches, noodle bowls, and salads. This was my first visit, and I tried the Pho, a traditional Vietnamese soup. One of the coolest things about the Bamboo Bistro is that you get to choose your own ingredients, so I loaded up with noodles, beef, green onions, jalapenos, cilantro, carrots, mint, peanuts, chili powder, and a lime wedge. If I order the soup again, I'll  ask for extra chili powder and jalapenos.
Thursday @ Pi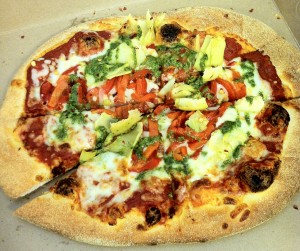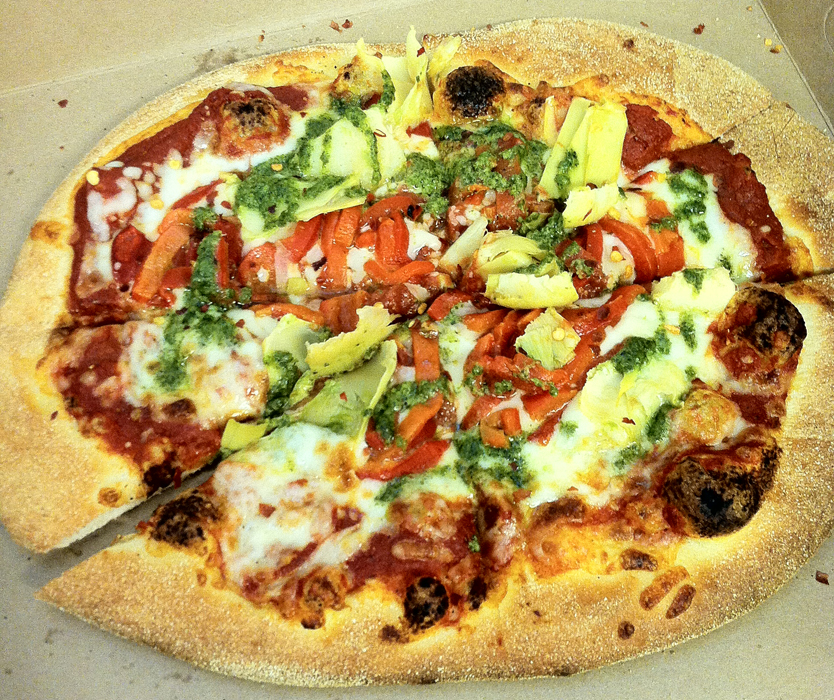 You've got to love a pizza place with a math pun for a name.  Located in the Rand lounge, Pi serves made-to-order brick oven pizzas.  These individual pies come hot out of the oven with a crispy crust and bubbling cheese. They're the perfect accompaniment for a personalized salad from the neighboring café, Leaf. On my visit last week, I opted for a pizza topped with artichoke and roasted red peppers and was thoroughly impressed.
Friday @ Rand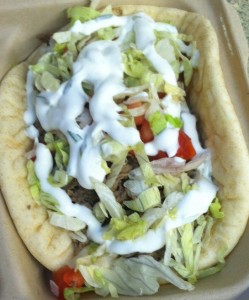 The Rand dining hall has long been a staple of campus dining. This past year, Rand underwent a thorough renovation in which the main dining area was completely overhauled and reorganized. The resulting space has a better traffic flow, a modern look, and, most importantly, great food.  Like The Commons, Rand offers a lot of options, including traditional comfort food, Tex Mex, and a deli. I chose to go for the Mediterranean fare, selecting a beef pita topped with lettuce, tomatoes, and tzatziki sauce. Side options include babganoush, hummus, or lintels and rice. And, best of all, they have baklava for dessert.