How To: Extracurricular Activity List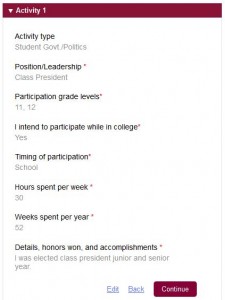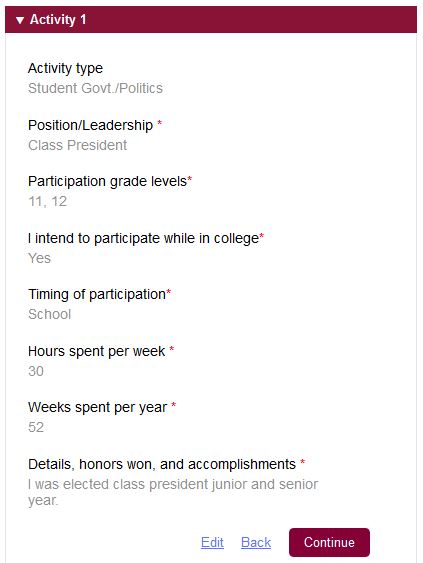 As Early Decision deadlines are approaching for universities all over the country, including Vanderbilt, the application process has kicked into high gear for many high school seniors.  To further help students charging through this process, we would like to continue our "How To" series with a look at the portion of the Common Application that asks you to list and describe your extracurricular activities.
Although a large focus of our holistic evaluation process centers on your academic achievement in high school, your accomplishments outside of the classroom are also taken into consideration.  With over 510 student organizations on our campus, we are looking for students who can balance a rigorous and active academic experience with high levels of involvement on campus and in the Nashville community.  In most cases, we will gauge your propensity for active involvement by looking through the extracurricular activities you completed in high school.
Below you will find a list of tips for compiling this list in a way that best highlights your non-academic accomplishments:
List your activities in order of importance. This small but crucial directive is often overlooked by students when filling out the Common App resume.  Although our admissions counselors will certainly read the entire list of activities, it is often helpful to know right off the bat which of these activities took up the largest portion of your time and energy over the last four years.  It also helps to give us an idea of which activities you felt the most passionate about and believe to be your most impressive accomplishments.
Highlight leadership, commitment, and impact. If you held a leadership role in your organization, make sure the scope of that leadership is accurately captured in the description.  That being said, we know that leadership titles are not the only way to portray success, and we value any type of involvement that demanded large amounts of your time and energy over the last four years.  If you made a real difference on your campus or in your community through one of your activities, emphasize that impact, regardless of whether or not it came with a title or official leadership role.
Depth over breadth. When we say that we like our students to be actively involved, that does not mean that we expect you to sign up for every single club and organization at your school for the sake of beefing up your resume.  We would much rather see a genuine commitment to one or a few activities than a student who has spread himself so thinly that he cannot significantly contribute to anything at all.
Don't leave anything out. School-affiliated activities like academic clubs, student government, and athletic teams are not the only avenues through which students can demonstrate achievement outside the classroom.  If you are heavily involved in your faith community, hold a part time job, or spend large amounts of time helping your family around the house, make sure these types of commitments are highlighted on the activity list as well.
Give us as much context as possible. When we are advocating for our applicants, it is helpful to have as much information as we can get.  If you feel that one of your activities needs a little bit of extra explanation, either regarding the activity itself or the nature of your involvement, do not hesitate to add it.  The Additional Information section on the Common App and the Vanderbilt Writing Supplement are both great ways to squeeze in that helpful context.
Don't try to guess what we want to see. Does this piece of advice sound familiar?  I offered it a couple weeks ago when discussing the personal essay, and it is just as relevant here.  We do not prefer one "type" of involvement over another at Vanderbilt, as we are looking to build a community of students with varying interests.  Get involved with the activities that you are passionate about, and let that passion show through as you summarize your involvement in your application.