Finding Your Major
If you're in the midst of your college search or college application process, the task of choosing your undergraduate major may seem a long way off. While some students have known what they wanted to study since they were eight years old, others won't choose a major until well into their college experience. Sometimes both are true – just ask student blogger and Communications Studies major Erica Graff.
Although there are many factors to consider when selecting a college, the courses of study available to you at any prospective school should play an important role in your decision-making. For instance, if you want to study cryptozoology – the study of mythical animals, like unicorns and bigfoot – you would be out of luck at Vanderbilt, because we don't offer a cryptozoology major (or even any cryptozoology courses, for that matter).
In the broadest sense, this means understanding the kinds of programs of study that a school offers. Does a school focus on a liberal arts curriculum? Does it offer engineering degrees? Learning the answers to these questions, and finding a match with your own interests will go a long way toward narrowing your focus on an eventual major. Vanderbilt has four undergraduate schools – the College of Arts and Science, Blair School of Music, School of Engineering, and Peabody College of Education and Human Development – which define the broad categories of undergraduate study available. All Vanderbilt undergraduate programs of study fall within these broad categories of liberal arts and science, music, engineering, and education.
At a more detailed level, choosing your major involves reflecting on your own strengths, interests, and academic goals, and matching them with a specific program of study. Here is where you can begin to examine individual majors. Keep in mind, as Carolyn pointed out in her post on Interdisciplinary majors, that not all college majors correspond directly to your high school courses.  If you love math and excel in it, you aren't limited to a mathematics major. You might also look at majors like economics, computer science, or physics and astronomy.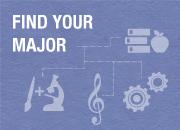 Vanderbilt makes this kind of research easy for prospective students. Our "Find Your Major" page lists our 68 major fields of study, indexed by discipline.  Scroll through the list or use the search feature to find a major that interests you. To find out more, click on a major and you'll get a fact sheet chock-full of information about the course of study.  The sheet provides a program overview, listing of recent courses, and faculty directory. Some majors will have information about study abroad opportunities or recent graduates. Feel free to explore, click through to departmental web pages, or check out the course catalog. You may just find your future major.