VU Visits You – Travel Updates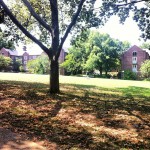 With the calendar officially turning the corner from summer to fall, travel season is now well underway for us here at the Office of Undergraduate Admissions. While I am here on campus enjoying the perfect fall weather, admissions counselors from our office have been traveling across the country and around the globe to meet with and answer questions for prospective students and their families. (Admissions protip:  complete our contact form and we'll notify you of upcoming visits to your area.)
Here's a look at some of the places my colleagues have been visiting in order to recruit the Vanderbilt class of 2018.
| | | |
| --- | --- | --- |
| | | |
| New Zealand | Maine | Denver |
| | | |
| Indiana | Seattle | New York |
| | | |
| Florida | New Orleans | Alabama |
If you'd like a chance to meet your admissions counselor, check out these upcoming opportunities during travel season.
In the next few weeks, VU admissions counselors will be joining representatives of Dartmouth, Northwestern, Princeton, and UC Berkeley on the Coast to Coast College Tour. Register for these events to get an overview of the selective admissions process, as well as insight into the unique characteristics of each of these schools. Upcoming stops on the tour include Phoenix, Charlotte, Seattle, Birmingham, Portland, Boise, and Atlanta.
Vanderbilt representatives will participate in over 200 college fairs this fall. An up-to-date listing of the college fairs we're attending is available on our website, or you can use the interactive map below to find the college fair closest to you.
We have international travel planned to a number of locations this fall, including trips to China, France, India, Turkey, Belgium, and Switzerland. Visit our Joint Travel Programs page to learn more and register for these events.
Many of our admissions counselors are visiting multiple high schools every day through the end of October. To learn if and when VU might visit your school, check with your guidance or college counselor.
These are just some of the many trips that VU admissions counselors will be making this fall.  We hope that you'll come out and say hello when VU visits you.