Interdisciplinary Majors at Vanderbilt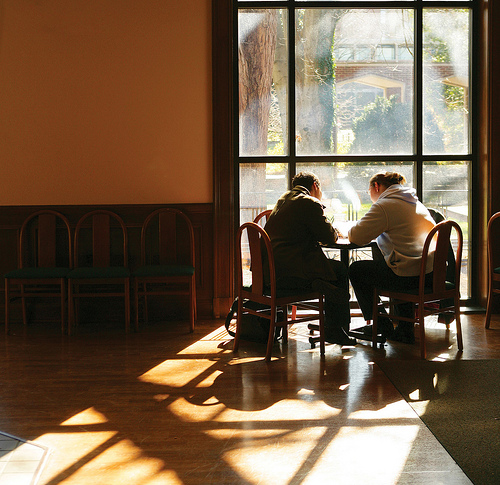 One of the biggest questions you will have to answer as a college student is, "What am I going to study?"  To begin to answer this question, you might think about which of your high school classes you excel in or enjoy the most.  You must keep in mind, however, that the world of college majors, and more importantly the world beyond college, does not exist within the confines of your high school class schedule.
Imagine if the only careers available were those that corresponded with high school subject areas.  We would have an unusual surplus of biologists, mathematicians, historians, and artists, but no social workers, architects, corporate CEOs, or – heaven forbid – college admissions counselors.
The fact is, today's society demands that students graduate from college with a broad base of knowledge and skills in order to succeed in almost every profession.  Because of this demand, each of Vanderbilt's four undergraduate schools requires that its students complete a core liberal arts program in addition to their chosen majors.
Interdisciplinary majors at Vanderbilt take this idea one step further.  These fields of study do not simply focus on one subject area, but pull classes from multiple departments to give students a uniquely inclusive perspective on a more traditional major.  In July, Chancellor Nicholas Zeppos named the development of interdisciplinary programs as one of the university's primary academic goals moving forward.
If you are interested in exploring the world of interdisciplinary study, read on!  Below we have listed a few of the many interdisciplinary majors offered at Vanderbilt with excerpts from their program descriptions:
Communication of Science and Technology:  Do you like science? Do you also like to write, to explain things to people – to communicate? Many careers may be open to you that combine these two interests. From broadcast or print journalism to law to medicine, there is a great demand for people who understand science, engineering and technology and can translate it so that all can understand. The public needs to know more about science and technology. But once they complete their high school science, many rely on the media and on science professionals to keep them up to date with advances in research that affect their daily lives. Too many researchers, however, have difficulty in talking about their work in a way that people who are not scientists can understand. To solve this problem, society needs people with special bridging skills who can provide a link between science, technology and the public.
Economics and History:  The joint major in economics and history makes an important contribution to liberal education at Vanderbilt by helping students understand the origins and organization of modern society. It also provides a unique preparation for careers in business, the professions, and other fields by combining all the analytical tools of the regular economics major with history's emphasis on clear and effective writing and on developing skills in gathering, assessing, and synthesizing information.
Latina and Latino Studies:  Vanderbilt Latina/o Studies (LATS) is a multidisciplinary program that considers the presence of Latinas/os and Hispanics as an integral part of US culture and history… The curriculum considers courses that explore the Latina/o and Hispanic experience, mainly in the United States, but also as it intersects with other national and geographic boundaries across the disciplines. The program's mission is to study the many manifestations of Latina/o culture and identity and to sustain an ongoing conversation with traditional departments, such as Anthropology, English, History, Philosophy, Political Science, Spanish and Portuguese, Sociology, and Religious Studies, along with programs such as American Studies, Latin American Studies, African American and Diaspora Studies, and Women's and Gender Studies. The program seeks to understand the contributions of Latinas/os and how they represent a central pillar for intellectual reflection and cultural production in this nation.
Medicine, Health, and Society:  The interdisciplinary undergraduate program draws on a variety of fields in the social sciences and humanities to study health and health care in their social and cultural contexts. MHS-related disciplines include anthropology, economics, history, literature, psychology, sociology, philosophy/ethics, and religious studies. The program will be of particular interest to students preparing for careers in a health-related profession but will also have much to offer any student open to examining an important part of the human experience from multiple perspectives and developing a critical understanding of contemporary society.
Human and Organizational Development:  The Human and Organizational Development (HOD) major is designed to prepare you for a successful career focused on finding solutions to human problems in businesses, organizations, and communities. The HOD philosophy emphasizes the importance of connecting academic knowledge and theories to personal and professional practice.  HOD undergraduate core requirements offer an applied liberal arts education that will endow you with the skills and knowledge you need to succeed in a people-oriented organizational role. These skills include effective written and oral presentation, data-driven decision analysis, proficiency in using technology toward the goal of aiding organizations, interpersonal communication and collaborative work behaviors, group leadership, organizational development, management, and training.  In your sophomore year, you will declare one of five tracks in accordance with your general career focus. In your senior year, you will complete a semester-long, full-time internship.
Individually-Created Interdisciplinary Major :  The individually-created Interdisciplinary Major permits students to contract for an individually designed program of concentration consisting of at least 48 hours of approved work. The program is constructed around a coherent academic purpose and may draw together the academic resources of a number of departments and schools. A student who wishes to develop such a program must first discuss it with the dean, as well as submit a written proposal to the Committee on Individual Programs.  Recently created interdisciplinary majors include Cognitive Aspects of Marketing, Health Administration, Molecular Neurology, and Economics of Latin America.