Financial Aid To Do List
A couple weeks ago, we posted a blog emphasizing the importance of the college application checklist.  When students are applying to multiple schools with varying policies and requirements, as most of you are, keeping a detailed to-do list handy is crucial for navigating the process successfully and maintaining your sanity at the same time.
For most families, however, completing and submitting your applications for admission is only half the battle.  In order to afford the cost of attendance at Vanderbilt, most of you will also be applying for both need-based and merit-based financial aid (in fact, over 60% of students entering this fall are receiving some type of financial assistance).  As these processes will also vary between institutions, it is equally important to keep the financial aid requirements and deadlines straight as well.
And so we present to you the Vanderbilt Financial Aid To Do List:
✓ Do your research. Every institution determines your family's financial need and how much of that need your family will be able to meet in different ways.  Through our Opportunity Vanderbilt program, we are one of only a handful of universities in the United States that can make all three of the following commitments:
1)      Our admissions process is need-blind for all U.S. citizens and eligible non-citizens. In other words, these students will never be advantaged or disadvantaged based on their ability to pay; admissions decisions are based on the merit of each student's application for admission.
2)      We are committed to meeting 100% of every admitted student's demonstrated financial need. By filling out the FAFSA and the CSS Profile, you will be providing us with the necessary information to determine just how much your family is able to pay toward your college costs each year. This amount is called your Expected Family Contribution (EFC) and is subtracted from Vanderbilt's cost of attendance to determine your demonstrated need. We meet 100% of demonstrated need each and every year.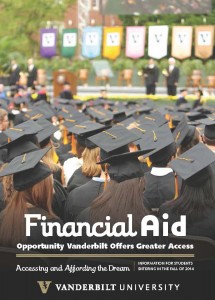 3)      Our aid packages will include grants, scholarships, and a student work expectation – not loans. The money you receive from the Vanderbilt Office of Financial Aid will not need to be paid back.
✓  Get an estimate of your financial aid package. You can see on our website and in our publications that the average financial aid package is just over $40,000 per year, but it is important to note that these packages will vary greatly between families.  Our Net Price Calculator will use your specific financial information to create an estimate of  your need-based aid eligibility and out of pocket costs.   If your family is facing special circumstances that might affect the amount of aid for which you may qualify, contact the financial aid office to talk it through with one of our counselors.
✓  Complete and submit the FAFSA and the CSS PROFILE. Both of these forms are required in order to be considered for need-based financial aid, and it is crucial that they are filled out accurately and on time.  The FAFSA will be available on January 1 and must be submitted by early February, while the CSS profile deadline is dependent on the application decision plan you select (Early Decision I, Early Decision II, or Regular Decision).  See our Dates and Deadlines page for more information.
✓  Complete and submit merit scholarship applications. While each of our three signature merit scholarships are extremely competitive (approximately 200 awards are offered to admitted students each year), they each cover full tuition and supply stipends for summer research or study abroad.  These scholarships require separate applications that are due in December.  You can find more information on the criteria for each award and how to apply on the merit scholarship website.
✓  Take a deep breath, pat yourself on the back, and sit tight. All admitted students, including both Early Decision and Regular Decision applicants, will receive their official financial aid packages by April 1.  In the meantime, be sure to relax a little and enjoy the rest of your senior year – it goes faster than you think!
As always, please feel free to contact your admissions counselor or the Vanderbilt Office of Student Financial Aid and Undergraduate Scholarships if you have any questions about our financial aid policies.