Guest Blog: PreVU Vanderbilt This Summer
By: Laura Sensenig, Senior Admissions Counselor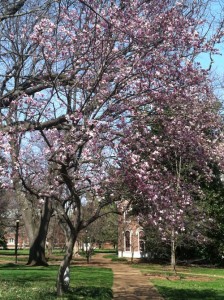 The dogwood and magnolia trees that are currently in full bloom on Vanderbilt's campus signify the change in seasons.  As one admissions cycle closes, another begins as we turn our attention to students who might apply in the next year or two. We're all on the brink of a new adventure; junior prospective students are starting to visit, or perhaps continuing to visit colleges and universities they've been seriously considering for the past year or so.  And the pace is beginning to pick up for admissions counselors as we hit the road for spring travel.
As witnessed on the road these past several weeks, the buzz about our upcoming PreVU events has begun. Beginning in June, we will begin hosting summer visit events for rising high school seniors on Vanderbilt's beautiful 330-acre campus, located in the bustling district of midtown Nashville – one of America's most up and coming cities (according to the Today Show, the New York Times, and several other publications). Occurring on ten different dates in June and July, PreVU is both robust and personable, seeking to give visitors an insider's view of the many amazing facets of Vanderbilt life.
Each PreVU includes a Student Organizations and Resources Fair, a Dean's Panel, an in-depth discussion of our four undergraduate schools and their respective curricula, breakout group presentations for both students and parents led by admissions and financial aid staff, and a comprehensive student-led tour of campus, including viewing a dorm room on The Martha Rivers Ingram Commons.  The tour is followed by lunch in The Commons Center and the day ends with a student panel that informs prospective students about a range of topics including student organizations, Nashville, study abroad opportunities, internships, and much more.
As a fourth-year admissions officer, I am continually both impressed and humbled by the amazing accomplishments of each entering class.  As we enter this new cycle, we are once again in search of the newest class of intellectually curious, civically minded, and socially invested students. If the recently admitted Class of 2017 is any indication, we know the caliber of students we are about to meet will be phenomenal!
As you begin to make your summer plans, we hope you'll consider joining us for our signature PreVU program, designed exclusively for rising high school seniors.
Registration is required, so check out the ten Summer 2013 PreVU dates below and click on the link to reserve your spot!
Monday, June 17, 2013

Friday, June 21, 2013

Monday, June 24, 2013

Friday, June 28, 2013

Monday, July 8, 2013

Friday, July 12, 2013

Monday, July 15, 2013

Friday, July 19, 2013

Monday, July 22, 2013

Friday, July 26, 2013