Breaking Down Commencement 2013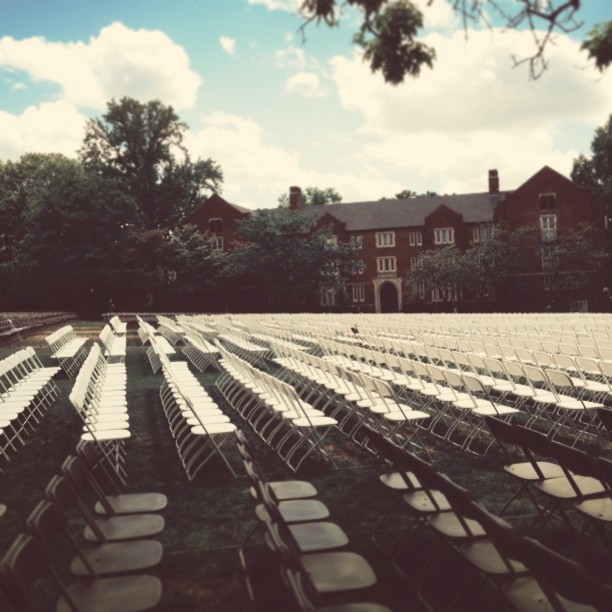 The chairs are back.
Every year, around the first week of May, a sea of white folding chairs appears, almost overnight, on the lawn outside my office window.  The lawn is the aptly named Alumni Lawn, and the chairs are set up in preparation for Commencement 2013.  On the morning of Friday, May 8, these chairs will be filled by students of the Vanderbilt graduating Class of 2013 as they wait to walk across the graduation stage and accept their diplomas.
But let's back up a bit, because our graduation and the annual traditions that accompany it actually start well before Commencement morning.  After finals concluded on May 2, seniors had a few days of downtime to soak up their remaining precious few remaining hours on campus, spend time in Nashville, or take a quick vacation with their classmates before Commencement events begin today.
This evening, students and their families are invited to revisit the place where their Vanderbilt experience began 4 years ago: The Martha Rivers Ingram Commons.  The Dean's Residence and all ten houses on The Ingram Commons will host receptions before the night's main event, THE PARTY.  THE PARTY – yes, you have to say it with the enthusiasm with which it is spelled – is a giant outdoor dance party that features a live band (this year's performance will be by Band X) and kicks off the week's events in a spirit of fun and celebration.
Thursday will begin with Senior Day, when graduating seniors, guests, and faculty are invited to Memorial Gymnasium to hear from a chosen speaker.  Senior Day speakers in the past few years have included Tom Brokaw, Muhammad Yunus, and First Lady Barbara Bush; this year's speech will be given by Pulitzer Prize winning author Toni Morrison*.  This event will be followed by an opportunity for students and their guests to attend faculty seminars in each of the four undergraduate schools.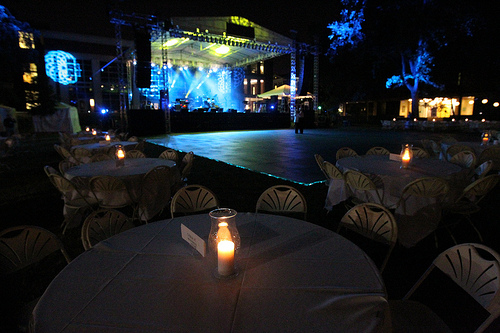 And now we're back to the big day!  On Friday morning, all 3,500 degree candidates from each of the ten undergraduate and graduate schools will assemble themselves alphabetically and proceed onto Alumni Lawn to take their seats for the graduation ceremony.  Chancellor Nick Zeppos will address the class and confer degrees to the undergraduate students (each of the graduate schools will host their own degree ceremonies at various places around campus).
After the ceremony, students and guest are invited to my favorite part of the day: a strawberries and champagne reception on Bishops Commons.  (Fun fact: the leftover strawberries from this event are donated to the elephants at the Nashville Zoo!)
So what happens next?  These accomplished young men and women, all of whom were in your shoes just a few short years ago, will be taking the wisdom and life experiences they have acquired in their time as Commodores and beginning (or more accurately, continuing) to make their unique contributions to the world.
If the statistics of recent history hold true, approximately half will go into full time employment, approximately a third into graduate or professional school (with some two-thirds having gained acceptance to their first choice institution), and the remaining 15% will be putting their skills to use in the military, volunteer work, or other pursuits.  70% will have already completed an internship, 33% will have spent a semester or year studying abroad, and 30% will have completed a double or triple major.  Most importantly, 100% of them will be proud Vanderbilt alumni, joining the likes of James Patterson, Jay Cutler, Lamar Alexander, and Dierks Bentley, and many thousands more who used their time at Vanderbilt as a launching pad to pursue their dreams and passions after Commencement.
*If you would like to be a part of Vanderbilt Commencement 2013 from home, go to the Vanderbilt homepage on Thursday, May 9 at 10 AM CST to watch a live stream of Toni Morrison's Senior Day address.