Know Your City: Downtown Nashville
I want to begin by being brutally honest, dear reader: When I moved to Nashville in 2000, I couldn't care less about the city's rich musical heritage, nor the incredible number of live music venues paying homage to it downtown. This is ironic because, at the time, playing music for a living was a dream of mine, but I wasn't interested in classic styles. Over the past 13 years, though, every variable in this equation has changed, and the city and its heritage have converted me – now there seems to be no limit to my thirst for hearing classic styles live, learning all of Nashville's tall tales (like where Bob Dylan hung out between Blonde on Blonde takes), and driving around the city speculating which studio the Next Big Thing might leap from.
My history with Nashville is important only insofar as it's a cautionary tale. In my naiveté about country, rockabilly, bluegrass, roots, and old rock music, I avoided downtown and all its "tourist" trappings for many years. Let me be clear that this was a mistake, one you should never make when visiting or living in Music City. Yes, there are certainly gauche elements in downtown, but far more prevalent is a hotbed of culture, food, and stories that date back centuries (that's not hyperbole – even Davy Crockett played the fiddle).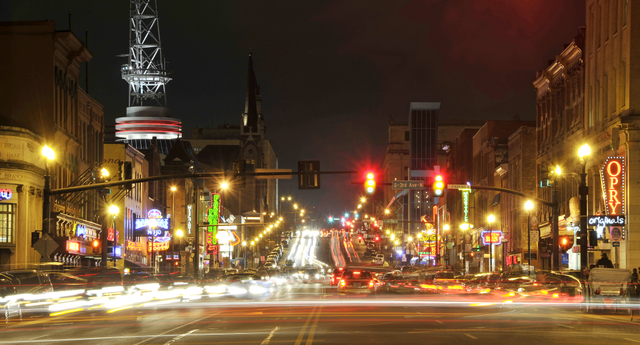 Now that I've publicly repented, I'd like to share some of my favorite downtown haunts. Before doing so, however, I'd be remiss not to mention that, as a Vanderbilt student, you're able to travel downtown free of charge thanks to the Vandy Vans transportation system. Students are also able to use their Commodore Cards in any TaxiUSA cab servicing Nashville. In other words, there's no excuse not to get off campus and get to know your city once you arrive.
Music
The Ryman Auditorium
Chances are you've read about the historic Ryman before, either in one of our brochures or basically any publication discussing the history of Nashville. Opening in 1892 as the Union Gospel Tabernacle, the Ryman has hosted world-class symphonic performances, The Grand Ole Opry (the world's longest-running radio show, which is still going strong in a different venue across town), and countless would-be and current stars in a wide variety of genres. In the past year alone I have seen the legendary Bonnie Raitt, the beautiful instrumental group Explosions in the Sky, and indie stars like Bon Iver, Grizzly Bear, and The xx. Pop act fun. recently performed there mere weeks after winning Best New Artist accolades at The Grammys and the stage is set to play host to Alan Jackson, Dwight Yoakam, and the UK icon Morrissey this spring.
But you can see these acts in any major city, right? The difference is the room itself, which boasts some of the best acoustics in the world. (The venerable music website Pollstar.com has listed the Ryman as "Theatre of the Year" for four of the past ten years.) It's not uncommon for acts to unplug their instruments during encores to perform acoustically, and the packed out room resonates every note due to its unique construction.
Robert's Western World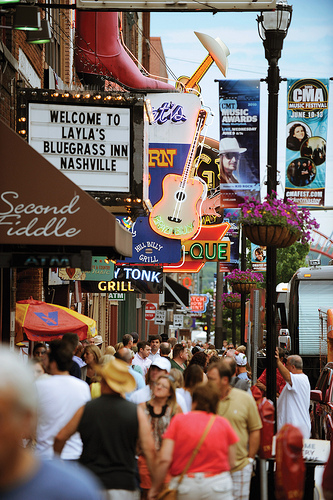 There are several honky tonks worth visiting downtown, but Robert's is the total package. Literally right across the alley from the Ryman (the so called "Mother Church of Country Music"), Robert's Western World serves electrifying live music from up-and-comers and studio vets and classic diner-style food inside a room that's a constant reminder of the area's seasoned musical history. Signed photos of Nashville's most famous musical exports rest next to all sorts of cowboy boots and related ephemera, and the amiable staff fits the mold perfectly. I have never experienced a dull moment in Robert's and the place is largely responsible for my "old Nashville" conversion – all it took was one two-step invitation from a kind stranger and I was sold. Indeed, the crowd is diverse but the aesthetic is refreshingly straightforward.
Also worth checking out: Layla's Bluegrass Inn, Station Inn, and the bevy of street musicians dotting each corner of Lower Broadway
Dining
Merchant's
Merchant's is a two-level operation housed in what was formerly Merchant's Hotel, a building dating back to 1892 that once counted Hank Williams, Patsy Cline, Loretta Lynn, Dolly Parton, and Little Jimmy Dickens among its inhabitants. The restaurant opened in 1988 and has changed hands a few times, now featuring an economical and stylish bistro on the ground floor and a more refined restaurant on the second. Pay attention to the details during your visit: According to the Merchant's website, the marble countertops and floors in the bistro are all original and "vestiges of the original hotel rooms" (i.e. fireplaces) can be seen throughout.
The Southern
The Southern is relatively new to Nashville's culinary scene but it feels like an old staple to me. I was raised in Northwest Florida, so its shuck-to-order oyster bar makes me swoon, and everything else I've had the fortune of tasting from its talented chefs has taken me to elevated places. The menu leans hard on, wait for it, Southern fare, and most (if not all) of its ingredients are sourced from local farms. The Southern is nice enough to take a date yet not so rough on the wallet as to thwart a last-minute stop for a farm-fed burger amid a downtown stroll. (Pro tip: M. Restaurant in nearby Cummins Station also flies high on my local Southern food radar.)
Also worth checking out: Past Perfect, Puckett's Grocery and Restaurant, and The Standard
Culture
Schermerhorn Symphony Center
Aside from the more conventional songwriting being showcased at the Ryman and elsewhere, downtown also features the stunning Schermerhorn Symphony Center, where the Nashville Symphony has performed with stars as bright as Yo Yo Ma, Al Green, Boyz II Men, and Itzhak Perlman, among many others. The building's neoclassical design is incredibly compelling in and of itself, and the quality of the players is matched only by those in the nation's most prestigious ensembles.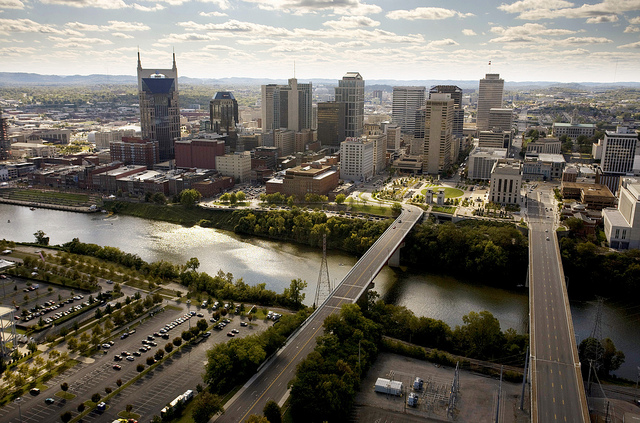 The Frist Center for the Visual Arts
Opened in 2001, The Frist Center has become ground zero for Nashville's burgeoning art scene, hosting exhibitions from local artists to international icons and providing educational opportunities for young and old alike. The Martin ArtQuest gallery even provides hands-on learning. According to the Frist's site, "visitors of all ages are invited … to create prints and collages, sketch and paint, or explore the essentials of art, including color, pattern, texture, and perspective." In other words, get inspired by the exhibitions and then get to creating.
Also worth checking out: Tennessee Performing Arts Center, Country Music Hall of Fame and Museum, and First Saturday Art Crawls
There's so much more to do and see and experience downtown, but I'll leave you here to explore a bit on your own. Just remember: No matter what 18-year old Ryan tells you, downtown is awesome.
Click here for more dispatches on Nashville neighborhoods and here to schedule a visit to Vanderbilt. We look forward to hosting you in Music City!