Sounds of the City: What We're Listening To
It's been quiet around here, huh? I promise we have good excuses. Collectively we've been buried in application reading season, getting our virtual tour up and running, interacting with folks on Facebook and Instagram, recruiting new first-year bloggers for Inside 'Dores, planning spring travel and fun events for admitted students, among many, many other things.
But oh how we've missed blogging. So much so that we put a little extra effort into our "comeback" post, which we're hoping will actually evolve into a series of posts. It dawned on us a few nights ago that we could be doing more to tell you how great it is to live in Music City, and how that nickname really is incredibly appropriate (just in case Rolling Stone naming Nashville "best music scene in the country" in 2011 didn't tip you off).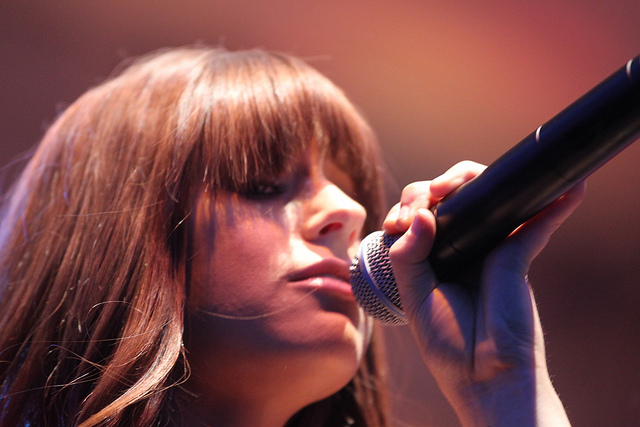 For Nashville's size, the city hosts a disproportionate amount of musical life: Songwriters are dreaming in all corners; hit-makers are recording just blocks from Vanderbilt's campus; local, regional, national, and internationally renowned artists are playing our smallest clubs to our largest arenas; and in between there are 1.6 million residents who are some of the most committed fans in the world. Oh, and lest we forget, Nashville was incredibly well-represented at this year's Grammy Awards.
Then there are Vanderbilt students, of course, who know all about good music. During Rites of Spring and Commodore Quake, they don't even have to leave campus to see acts like The National, Feist, Lady Antebellum, Wiz Khalifa, and more. And, considering that the Blair School of Music also presents many opportunities to see live music throughout the year, Rites and Quake represent the tip of the iceberg.
But back to this new series. In a similar vein as the Know Your City posts, we're going to start publishing music-specific posts that detail what we're listening to during a few given weeks, and future posts may point readers to concerts happening in Nashville amid the same time period. Light reading, sure, but hopefully it will give you a better, more constant sense of what it means to live in Music City.
Let us know what you're listening to in the comments below.
What We're Listening To:
Carolyn Pippen, Admissions Counselor
Santigold, Santogold – "Creator" is one of the best "waking up to crush the morning" songs I've found yet.
Ingrid Michaelson, Be OK – Great music for reading applications
Edward Sharpe and the Magnetic Zeros, Up From Below – I dare you to keep your feet still while listening to this album.
Julie Chapman, Senior Admissions Counselor
Maroon 5, Songs for Jane – This was on my playlist during my morning run!
Ryan Burleson, Interactive Project Strategist
James Blake, James Blake – Futuristic, soulful R&B that's such a joy to listen to in headphones. The London-based producer is releasing a new album in April and I couldn't be more excited.
TNGHT, "Higher Ground" – I love to dance. This makes me dance.
Katy Perry, "Teenage Dream" – Do I really need to explain myself?
Saves the Day, Stay What You Are – I've been revisiting a lot of music from my high school days, back when this was always a standout. Nostalgia + music = Always a fun ride.
Hammock, Departure Songs – Incredibly lovely instrumental music from a talented Nashville team
Eileen Robinson, Co-Editor-in-Chief, Inside 'Dores (College of Arts and Science, 2014)
Of Monsters and Men, My Head is an Animal
Julianna Staples, Assistant Director
Ed Sheeran, + – I lived in Britain once and I miss it so much. Also, "Lego House" – that song is reason enough for me.
fun., Some Nights – Their concert at the Ryman last week was clearly the most fun concert I've ever seen!
Taylor Swift, Red – Nashville. Red. "All Too Well." Meredith. "Trouble." Like Ever. "Begin Again." Brit Awards. Swifties unite.
The Civil Wars (all of it) – I really, really hope they aren't broken up.
John Nesbitt, Senior Assistant Director
What: Phish. While reading files this week, I have been listening to a steady diet of Phish's 2012 New Year's Run at Madison Square Garden.
Why: Because I went to all four shows, of course … and because it keeps me moving and going and helps me read all these applications!
Want a taste? Bet you've never heard a band make "the Little Drummer Boy" sound like a dance rave, have you?
Nathan Hall, Recruitment Chair, Inside 'Dores (School of Engineering, 2014)
Kishi Bashi, 151a: "Wonder Woman, Wonder Me" – This whole album is fantastic and interesting, and only gets better once you've seen him perform live with just his violin and a loop pedal.
Noah and the Whale's "Peaceful, the World Lays Me Down." I like the simplicity of the instrumentation, which forces you to think about the lyrics because they're so exposed.
The Shins, Wincing the Night Away: "Phantom Limb" – Just listen to it? The second half of the chorus is practically cathartic in the way it builds suspense with the chords and then resolves.
Alex Hershberger, Student Systems Analyst
Brave Bird, Maybe You, No One Else Worth It – Perfect mix of melodramatic vocals and upbeat guitar riffs
The Hundred Acre Woods, The Hundred Acre Woods EP – Just makes me feel good
Jae Maeng, Inside 'Dores Blogger (College of Arts and Science, 2015)
Macklemore – Thrift Shop (the clean version of course)
Cassandra Mychajlowycz, Inside 'Dores Blogger (Peabody College of Education and Human Development, 2015)
I've perpetually been listening to Ed Sheeran's new album +.  I love his upbeat-yet-relaxed sound, and his British accent is just precious.  His songs always have a deeper meaning behind them, and yet their content is completely accessible to the general public.  He takes personal incidents and makes them beautiful and relatable.
Nicole Molina, Senior Admissions Counselor
Dashboard Confessional, A Mark, A Mission, A Brand, A Scar – Brings me back to the summer in high school when I could take on the world
Don Omar MTO2: New Generation – Reminds me of home, my family, mi isla bonita y mi gente bella!
Ben Gatlin, Senior Admissions Counselor
This Will Destroy You (because it keeps me focused)
Explosions in the Sky (because it makes me productive)
Old school Dave Matthews Band (because I am alive)
Amy R. Smith, Senior Associate Director
Nashville Public Radio, because "it's the best public radio station ever"
Jessica Forinash, Senior Admissions Counselor
The Black Keys, El Camino – The entire album, from start to finish, on repeat, all day.  I might be a little late to The Black Keys party, but I'm making up for it now!
Dustin Lynn, Senior Admissions Counselor
Imagine Dragons, "Radioactive" – This was featured in a trailer when I went to see Beautiful Creatures and I'm now addicted.
Jimmy Smith, "More to Me Than You" – He's my best friend from high school and college who was, unfortunately, voted off of American Idol recently.
Maria Ornelas, Senior Assistant Director
The Black Keys, El Camino
Mumford & Sons, Babel
Both are great Grammy-award winning artists. I like the folksy sound of Mumford & Sons, and The Black Keys are originally from Ohio.
Jan Deike, Assistant Director
I recently fell in love with two songs while listening to a local independent radio station:  "White Winter Hymnal" by Fleet Foxes and "Splitter" by Calexico.
Lindsey Holden, Admissions Counselor
The Black Keys, El Camino – Some of Nashville's best non-country
Adrienne Mohadjerin Spraggins, Admissions Counselor
Honey Honey – Americana with a lead singer who can belt it out with the best of 'em. Plus the band is newly relocated to the 615!
Fitz and the Tantrums – They make me want to dance, even in my living room.
Patrick Boswell, Senior Admissions Counselor
Mumford and Sons, Babel – I wish I could play banjo in their band
Grace Potter and the Nocturnals – We saw them at the Ryman in October and they rocked!
Jason McGrath, Associate Director
The radio.  Because I don't have time to update my iPod with anything more interesting!
Harper Haynes, Senior Assistant Director
DMX, Mississippi: The Album – These beats are dope.
Miley Cyrus, Breakout – She's so sassy and independent, I want to be just like her!