Now Showing: The New Vanderbilt Virtual Tour
We are thrilled to announce the launch of a new virtual tour of Vanderbilt's campus. Featuring current Vanderbilt students as guides (one from each of the university's four schools), the tour gives users an experience of campus rivaled only by an actual visit. What's more, the tour comes in three languages – English, Mandarin Chinese, and Spanish – making it useful for both domestic and select international audiences.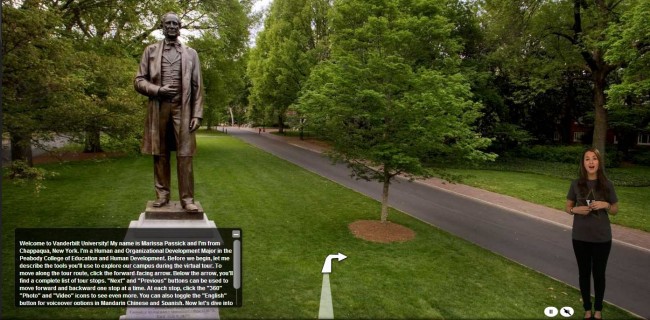 Aside from the virtual walking tour of campus, the new tool is populated with supplemental material intended to showcase the complete Vanderbilt experience, including 50+ captivating panoramic images, still photography, and videos. In addition to helping convey the allure of the university's 330-acre, park-like campus, these images portray what's distinct about Vanderbilt academics and student life, what it's like to root for an athletics program that competes in the mighty Southeastern Conference, and more.
Because Vanderbilt is constantly evolving, you can expect the virtual tour to do the same. For example, users will eventually be able to see College Halls in greater detail, and we may add an in-depth look at Vanderbilt's athletics facilities or state-of-the-arts labs. We look forward to presenting these enhancements in the coming years.
But there's already so much to see now, so go ahead and experience campus and the Commodore life from the comfort of your own home – it's all just a click away.