Why Wait?
If you're a high school senior who reads this blog with any regularity, chances are you've put quite a bit of thought, energy, and effort into determining your "fit" with a number of universities, including Vanderbilt. Your search process probably began at least a year ago, and (in some cases) much further ago than that. You probably know Vanderbilt's website, as well as those of other universities, like the back of your hand. More than likely you've visited many campuses, spoken with admissions counselors and current students, and perhaps even visited a class or spent an evening in a dorm room or two. And you've been doing all of this amid the busyness of your life in high school, which is impressive no matter where you land.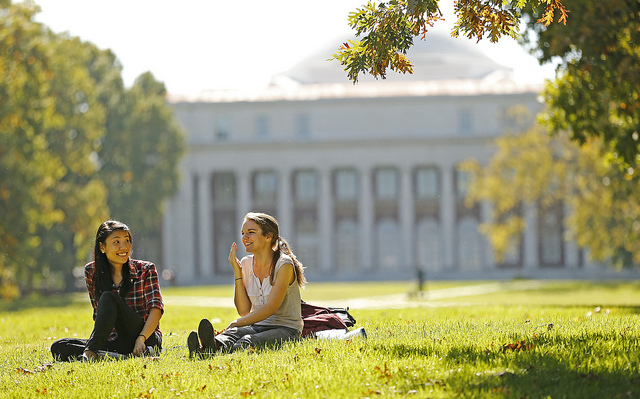 But that's just it: You are so busy right now, you know (at least most of you do) where you want to apply, and those decisions are based both on cold, hard evidence and important gut feelings gleaned from your due diligence. So why wait? We don't assume much about our readers, but we do assume that a high school senior who's still reading despite being slammed with academic, extracurricular, and social engagements must be fairly certain that Vanderbilt is at least being strongly considered. (If not, and you're just reading because you like Carolyn and me so much, well, that's flattering, but please let us know if we can answer any questions for you that might encourage you to give Vanderbilt another look.)
At this point I want to pass the baton to a group of individuals who know Vanderbilt better than anyone else. Let's hear from some current students on why they applied to be a Commodore, and why doing so sooner rather than later is the best way to approach this process.
Why wait…to partake in the tradition of an elite academic community, to become part of a vibrant mix of the world's best and brightest students, to discover your passions, to make your dreams become a reality, to be welcomed by the infectious Vanderbilt way of life that gets in your blood and stays forever. Become part of the legacy—apply to Vanderbilt today! – Chloe Stegeman, College of Arts and Science, Class of 2015
Aside from the beautiful campus and great dining hall, Vanderbilt is special in itself. This school pushes every student to strive to be their best in any kind of academic discipline, whether that be education, engineering or English literature. Every class I have taken so far has challenged me to not only be a better critical thinker, but also be someone who can articulate and deliver personal opinions on issues such as gender inequality, the New Testament and experimental findings in psychology. And within these classes are intelligent and confident students who are not afraid to express their most inner thoughts with candor and honesty. Vanderbilt has taught me that learning is not just memorizing textbooks and handouts, but also trying to see how what you learn from books applies in real life, even yours. Classes here have taught me to become more confident in speaking my mind. With such a great body of faculty and professors, Vanderbilt has given me the opportunity to learn not just facts, but also ways to share ideas and communicate with other people. – Bo Yeon Ihn, Peabody College of Education and Human Development, Class of 2015
I'm so glad that I applied to Vanderbilt – it's been an amazing place for me both academically and socially. I remember the feeling of being done with college apps was so good. I wish that I hadn't procrastinated until Christmas Eve to hit "submit" on most of my apps because the last thing I wanted to be doing during winter break was more work. Plus, if you have a question or problem, by that time it's almost too late. The earlier you get them done, the less last minute stress there is. – Julianne Connors, School of Engineering, Class of 2015
I took tours at over 15 different schools during my high school career trying to decide what I wanted in my college experience.  Vanderbilt was one of the last schools I visited and my tour showed me all of the things I had been looking for: a beautiful campus, close to downtown, and of course that Southern weather and hospitality.  Vanderbilt immediately jumped to the top of my college list by the end of my tour; my search was over. When I got in, I was so thankful that I was done with the college application process.  My years here so far have only made me even more confident in that decision to become a Commodore!  So why wait to apply to Vandy? Come join me! – Andrew Cohen, College of Arts and Science, Class of 2014
Vanderbilt has been more than a school to me.  It has been a place to grow, a place to learn, and a place to dream.  The best part about our campus is the people here.  I spend every day being inspired by the incredible things people are doing in the world, motivated by my supportive friends and classmates, and challenged to be the best I can.  I have learned so much from the people on this campus and have been exposed to so much more.  Everyone's different culture, different background, different interests have led to an environment where I feel like our campus has so much to offer and so much support.
Aside from the amazing people, Vanderbilt has offered me an extremely high-quality academic experience, full of challenges and rewards.  I feel prepared going into the world, knowing that at Vanderbilt, not only have I been prepared to be a leader in any industry, but I have also learned how to interact with people of all different backgrounds, and how to continue learning throughout my life. – Ryan Higgins, College of Arts and Science, Class of 2013
My friends spent the second semester of senior year stressed about which colleges would accept their applications; I spent it preparing for a physics competition and learning to cook Chinese food (I may be the next Iron Chef). I got to shop for Vanderbilt t-shirts before Christmas instead of fretting about college over the holiday break. Because I applied Early Decision (you should apply under the decision plan you're most comfortable with) I was a Commodore by New Years. – Nathan Hall, School of Engineering, Class of 2014
As a student employee in the Office of undergraduate Admissions at Vanderbilt, I'm always getting calls from prospective students after the deadline still panicking about their late SAT scores, high school transcripts, etc. Waiting to apply in the last few weeks will only give you anxiety, as you wonder whether or not your file will be completed in time! Avoid this and get your application in early! – Luke Anapolis, College of Arts and Science, Class of 2014
Why wait on applying to Vanderbilt?
Why wait on the chance to be part of something bigger, a piece of our colossal wave of black and gold?
Why wait on learning from world-class musicians like Laurence Lesser in a master class at the Blair School of Music or world-famous guests like Michael Moore?
Why wait on savoring the delicious meals that are almost as good (if not as good) as momma's home cooking?
Why wait on fostering that passion of yours, whether it be in the sciences, arts, humanities or anything you please, and honing your intellect with our seasoned professors?
Why wait on meeting the people who'll become your best friends for life?
Why wait on an opportunity to spot celebrity Taylor Swift at Fido's, a café only minute away from campus in the quaint Hillsboro Village?
Why wait on watching the flamboyant leaves change color and making enormous leaf piles with your friends?
Why wait on being part of this school that is dedicated to you, cares deeply about you, and strives to provide opportunities for you to serve others?
Why wait on applying to Vanderbilt, this community who believes in you? – Shing Ann Yeh, Blair School of Music, Class of 2015