Know Your City: Sylvan Park
Guest Post by Patrick Boswell, Admissions Counselor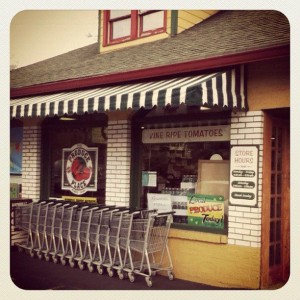 One of my favorite parts about Nashville is that it has so many neighborhoods with distinct character and activities. After reading Ryan's posts about East Nashville, 12South and Hillsboro Village, I vowed that I would write about the neighborhood that several OUA colleagues and I call home: Sylvan Park.
Sylvan Park lies between Charlotte Avenue to the north and Murphy Road to the south and is just one mile due west of Vanderbilt's campus. While you may not spend an entire day in Sylvan Park (like you might in East Nashville or 12South), it has more than enough variety at the corner of 46 and Murphy to occupy an entire morning, afternoon, or evening.
For early risers, Star Bagel Cafe – which won the prestigious Reader's Choice "Best Bagel" award from the Nashville Scene in 2011 — is the perfect start to the day, featuring a full-service café and wonderful breakfast sandwiches. If you're looking for a breakfast that will cause a mid-morning nap afterwards, walk right next door to the "meat and three" Sylvan Park Restaurant. Better known for their Southern cooking for lunch and dinner, they now serve a greasy-spoon breakfast Wednesday through Saturday (fried bologna plate, anyone?). Let's face it though– their fried chicken tastes just as good at 9 a.m. as it does at 6 p.m.
Sylvan Park is also home to many places with outside seating, which makes it easy to enjoy yourself so much that  lunch often flowsright into dinner. Local Taco serves Tex-Mex favorites alongside tacos inspired by other types of cuisines (e.g. Korean BBQ or buffalo chicken tacos). The burger at McCabe Pub has received many accolades over the years and their desserts are worth a special trip. Neighbors features live music on the weekends and recently held a crawfish broil for its first anniversary.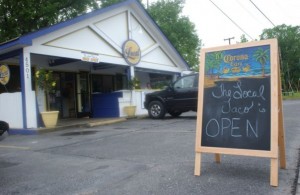 For more upscale dining, Caffé Nonna (another "Best of Nashville" spot) offers traditional Italian cuisine in a small, mood-lit atmosphere. Two doors down, Park Café is known for its creative yet simple use of local, fresh ingredients. (Warning: Keep your eyes down as you walk between these two restaurants, or you may be drawn into one of Nashville's most dangerous places: the aptly named Love at First Sight Puppy and Kitten Adoption Center and Nursery.)
The Produce Place and West Nashville Farmers Market (open on Saturdays from Spring to Fall) complete Sylvan Park's food resume, as both are among Nashville's best places to buy fresh produce. The farmers market also plays host to a number of awesome food trucks, further solidifying the reason why Sylvan Park makes a significant contribution to Nashville's reputation as one of the country's best cities for foodies (according to Travel + Leisure, 2011).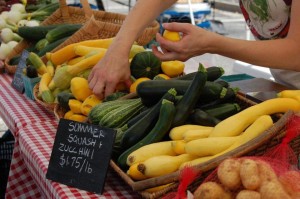 While Sylvan Park is best known for its food and neighborhood gathering places, it is also home to one of Nashville's many wonderful green spaces. The Richland Creek Greenway is a walking/running/biking trail that encircles McCabe Golf Course. On evenings and weekends, the greenway is filled with exercisers, dog walkers, and people working off their latest Sylvan Park meal, and its nearly three-mile loop provides you with enough space to enjoy the outdoors. For its part, McCabe Golf Course was originally an airfield serving Nashville, but now provides 27 holes of low-key, public golf with full practice facilities. The course also features nine holes available for walk-ups and provides the closest golf to Vanderbilt's campus.
Sylvan Park is known as a very welcoming community in Nashville, and hopefully it's nice to know that at least a few Vanderbilt employees would be your neighbors should you become a Commodore. (Come to think of it, the same would be true for many of the neighborhoods surrounding Vanderbilt – staff reside in Hillsboro Village, West End, Green Hills, 12South and the Belmont area, just to name a few.) When you visit campus, allow time to visit this or any one of Nashville's charming urban communities.