Guest Blog: Vanderbilt & You Welcomes You to the Commodore Community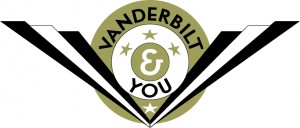 April is an exciting month for high school seniors, but it can also be a confusing one. After a long period of waiting for college admissions decisions, students across America are able to celebrate the news of their admission to college. Indeed, April is the time to breathe and congratulate yourself on a job well-done. However, it's also the month in which you have to make your next big decision: Of the colleges which offered you admission, which one will become your home for the next four years?
We realize this is an exciting and difficult decision to make, and would like to help as you navigate the selection process. One of the strongest elements of the Commodore experience is the sense of community at Vanderbilt, and we will be taking a sneak peak of that experience across America and the globe this April in the form of our Vanderbilt & You receptions.
Vanderbilt & You receptions invite admitted students to connect with other future Commodores from their areas while chatting with Vanderbilt alumni and admissions representatives. VU & You events provide a welcoming venue to ask the "tough questions" as you make your final decision. Admissions representatives will answer any lingering questions you may have – whether they concern our excellent academic programs, The Martha Rivers Ingram Commons, what it's like to live in Nashville, or anything else related to becoming a Commodore. You'll also get the opportunity to network with alumni and see where Vanderbilt has taken them since graduation. Perhaps most importantly, you'll get the opportunity to meet other students in Vanderbilt's Class of 2016. Who knows – you might even find your future roommate!
Search for a Vanderbilt & You program in your area and register today.
Before doing anything else, though, congratulate yourself on what you've already accomplished. You're about to embark on an amazing, life-changing journey, and selecting the college you'll attend is the first step. In the words of Dr. Seuss:
Congratulations!
Today is your day.
You're off to Great Places!
You're off and away!
You have brains in your head.
You have feet in your shoes.
You can steer yourself
any direction you choose.
You're on your own. And you know what you know.
And YOU are the guy who'll decide where to go.
Dr. Suess' Oh, The Places You'll Go, Random House, 1990.
Whether you're a guy or a gal, YOU will decide what college is right for you, and we hope your local VU & You will help make your decision a little easier.
By: Dustin Lynn, Admissions Counselor, Texas (San Antonio)