Things to do While Awaiting Admissions Decisions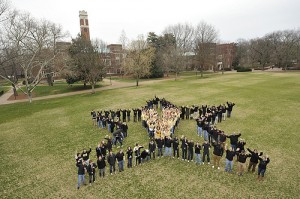 We noted on Friday that EDII letters were mailed, which brings us one step closer to the final chapter of decision-making for the Class of 2016. However, the remaining group to be notified (Regular Decision applicants) also happens to be the largest, so the word "final" seems ill-suited in a sense. There's probably nothing "final"-feeling about waiting. And waiting. And waiting.
We get it. Which is why, instead of ignoring this reality, we've historically faced it head-on. And we aim to do the same thing today.
Look, we can't stop you from trying to invent a time machine that hurtles you several weeks from now in a matter of nanoseconds, defying the laws of time and space in the process. (Please let us know if you succeed, however, because you'd be a perfect fit for our Mechanical Engineering program.) But we can present you with some healthy alternatives to giving into the completely normal specter of anxiety that many of you* now feel. Following are some positive ways to spend your time in the next few weeks:
We've said it before and we'll say it again: Read Inside 'Dores. Inside 'Dores is our student-run, student-written blog, which literally covers every aspect of the student experience at Vanderbilt. Though several Vanderbilt graduates now work in the OUA, and can therefore speak to the experience, it's the current student body which has the best pulse on what's going on right now. We'll continue to publish content that's relevant to you, of course, but the value of Inside 'Dores (especially at this point in the year) cannot be overestimated.
Read about the cities where your favorite universities are based. Moving to Nashville for college over a decade ago changed my life in every important way – and continues to do so. And I'm not the only one whose experience with Nashville continued after commencement. Like the schools themselves, cities often differentiate themselves in unintended ways. This is what we mean when we talk about the character (or the beat) of a place – and Nashville certainly marches to its own beat.
Ready to stop thinking about college altogether for a few weeks? Would it help to know that you're no less of a perfect student for doing so? Good. While we don't want you to delay submitting anything that's possibly holding up your application, we do want to encourage you to re-set your focus on the present for a bit. (Sidebar: One really important reason is that most of you aren't finished with high school yet – in other words, your grades still matter – but this encouragement is more directed at your non-academic life.) Look around you and remember that your friends, teachers, parents, siblings, favorite restaurants, etc. will in many cases be hundreds, or even thousands, of miles away this time next year. So, you know, carpe diem: Plan that last summer trip with friends, take your grandmother out to lunch, surprise your dad and take him out fishing or for a round of golf. Or just simply spend more time in the same room as the people you love. Next August will be here before you know it.
Finally, relax. You've completed the hard part of this process and you should be incredibly proud of yourself no matter what the outcomes may be. And rest easy knowing that, no matter where you land, you will make an impact and will have experiences that define the rest of your life.
Go forth and be good to yourselves. You've earned it.
---
*We haven't forgotten about you EDII applicants, of course, but your wait is almost (or in some cases is) over. Rejoice!