I am on the waitlist. Now what?
The first thing I would say to a student on the waitlist is congratulations.  No, seriously.  In this hyper competitive admissions environment our waitlist hosts an amazing selection of academic all-stars.  Make no mistake- the waitlist was not haphazardly thrown together.  It was carefully crafted so that we have the absolute best students to choose from post-May 1.  I know you waited a long time to get an answer from us and it's frustrating that the answer is "wait some more", so in an effort to calm your nerves, here are some answers to those pestering questions.
How big is the waitlist?
To be completely honest, we don't know.  We won't really know until the end of the summer when we mine through our final numbers.  However, looking to last year's waitlist numbers will give you a good indication of how the process works.  You can find all of the detailed numbers in our Common Data Set, going back to the 1999-2000 admissions cycle.
Last year we offered spots on the waiting list to several thousand; only 35% of those offered a place chose to wait it out with us.  Of those who chose to wait on us, about 19% eventually earned admission to the Class of 2014; students pulled from the waitlist comprise approximately 10% of the current first-year class.  If everything goes according to expectations, our waitlist this year will operate similarly.
Is there a rank to the waitlist? How do you choose someone to pull from the waitlist?
As I indicated in a previous blog, there isn't actually one waitlist, but rather many different groups of students.  First, remember that we admit by school (and there are four different schools at Vanderbilt).  Moreover, many of our schools admit by major or program (Human and Organizational Development for example).  Thus, our first consideration when we go to the waitlist will be which schools, and perhaps programs, need more students.
The absolute primary factor when we pull students from the waitlist will be academic strength, the same criteria that carried the most weight during the regular decision process.  The students with the strongest curriculum, grades, and test scores will stand out.  We will additionally consider the intangible pieces of your file based on the advocacy from your admissions counselor, what did the counselor note as stand out in your application?
Finally, we reserve the right to consider demonstrated interest and financial need on the waitlist.  That does not mean you will be disqualified if you have financial need.  In fact, over half of the students pulled from our waitlist last year did demonstrate need.  We say we reserve the right just to be fair and transparent, so you know what's going on behind the scenes.
How can I demonstrate my continued interest in Vanderbilt?
This is always a tricky question because showing your interest and stalking your admissions counselor is a fine line.  At Vanderbilt, the number of times you call/email/visit is not what we mean by demonstrated interest.  We are actually more concerned with the sincerity of your interest.  So one email or phone call to your admissions counselor is usually sufficient.
What should the email or phone call entail?  Introduce yourself, explain that you are on the waitlist, briefly highlight any new developments since you applied, and close the email or call by confirming your continued interest in remaining on the waitlist.  Your admissions counselor will take this email or phone call and record it in our electronic student record system and voila your interest is demonstrated.
Why do I keep getting emails about the Vanderbilt waitlist?  Do I need to fill out each one?
We will send you an email about once per month to evaluate whether or not you still wish to remain on our waitlist.  Often a student who expresses interest in waiting on us in early April changes their mind by the time June rolls around.  These periodic emails allow for those who have not changed their mind to reiterate their intention to wait.   Please complete each email you receive (they typically take 60 seconds to fill out).
How can I look more attractive as a waitlist candidate?  Should I send in new information?
This is another tricky question because you do not want to inundate the office with material we already possess, but you do want to make sure we are evaluating the whole picture.  My advice is to only send us more information if you have concrete changes such as new grades or midterm grades.  Another must-send is a new, higher test score (including new AP scores).  As far as intangible information goes, I would only send updates if you received a significant award or honor.
I discourage you from sending in new letters of recommendation unless you feel that this letter would change the way we perceive you as an applicant (for example, it will contain information not previously revealed about you).  The reason I discourage this is that A) it is taxing on your teachers to be pressed at this time of year and B) more letters does not equal more information; the new letters of recommendation typically say the same things your original letters said.
When will you go to the waitlist?
Last year we made our first wave of waitlist offers on May 5.  After that we go to the waitlist about every two weeks.  Our waitlist officially closed on August 9.    Yes you may be lucky enough to hear from us in four short weeks.  Or you may have to wait four months.  I know how agonizing that possibility may be – one of my students was the very last student called with a waitlist offer and I know she had all but given up on us.
Remember you have the power, too.  If at any point you decide that you cannot wait with us any longer, you may withdraw.
My other collegiate options require an enrollment deposit by May 1, but Vanderbilt is my first choice, what do I do?
You must deposit elsewhere and start making plans to attend another institution.  This usually means you will have to send a matriculation deposit elsewhere and start with orientation, housing, and class selection at another institution.  If admitted to Vanderbilt (and you choose to enroll at Vanderbilt) you will likely lose that original deposit.  That is a serious financial conversation your family will need to have.
What about financial aid?  If I am pulled from the waitlist when will I learn about my need-based package?
If pulled from the waitlist you will receive a phone call from an admissions officer informing you of your acceptance.  That same day a letter from the financial aid office will hit the mail containing your need-based package information.  You will have seven days from the day you receive the phone call to reply to us.  If there is a delay in your financial aid package we may grant a financial aid extension, but this is on a case-by-case basis.  It is a very quick turnaround so that if you choose not to attend we can offer the space to another eager student.  Because of the short timeframe, you need to have a discussion with your family ahead of time about what an acceptable need-based package would contain and how much you can honestly afford to pay out-of-pocket.
If I am pulled from the waitlist will I still receive the same housing and classes as other students?
Yes!  All of our first-year students will live in the Commons together.  Additionally, class selection does not begin until late June and early July so most waitlist students will be pulled into the class before that time.  Those pulled in afterwards will still have a huge selection of coursework available.  Finally, orientation happens the first few days on campus so everyone will be on the same footing in that respect.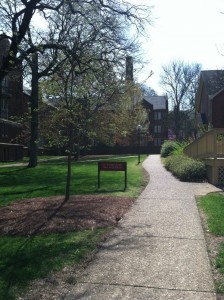 I think I could type Q & A waitlist questions all day, but I am going to stop here for now and let y'all ask the rest.  If you have a question, post below.