Using College Navigator
Here's an email I received over the weekend:
Dear Ms. Stanley,
My name is Jane Doe and I am a junior in high school in Illinois.  I plan on applying to Vanderbilt this fall and I wanted to know if you can tell me, of the students that were accepted to Vanderbilt over the past 3 years, what percentage submitted the ACT verses the SAT test?  Thank you for getting this information for me.
Sincerely,
Jane Doe
I am more than happy to answer the question for Jane.   However, the specificity of the question made me think she might be one of those students who enjoys data.  Although I did send her the answer back via email, I additionally directed her to College Navigator.  This is an amazing and underused tool produced by the National Center for Education Statistics (a branch within the US Department of Education) which disseminates oodles of relevant information about colleges and universities.  Plus, it's really easy to use!
Let's use Jane's question as an example.  Which standardized test do most applicants submit to Vanderbilt?
You can Google "College Navigator" and this will be your first result (or you can just click my link).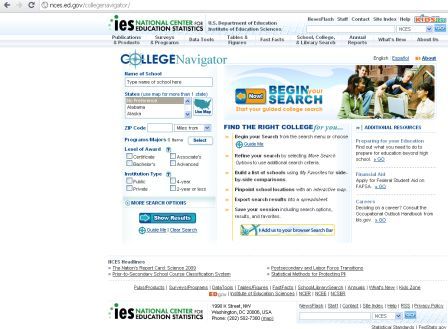 The search engine is simple and will feel familiar to many others you encounter regularly.  Searching for Vanderbilt is simple because you can just type our name into the search bar and we're the only result.  However, if you are searching for the University of Tennessee or you just wanted to create a more general search of universities in Tennessee, you would need to use the filters.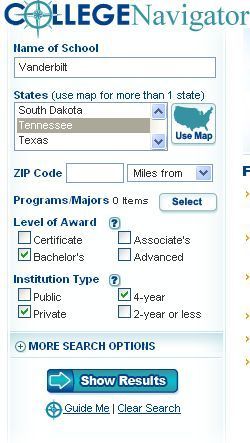 You can browse an institution or you can add it to a Favorites list in order to go back and compare institutions.

The most general information is at the top and then you have accordion-style drop down boxes where you can delve deeper.  For Jane's purposes, we are clicking on the "Admissions" section.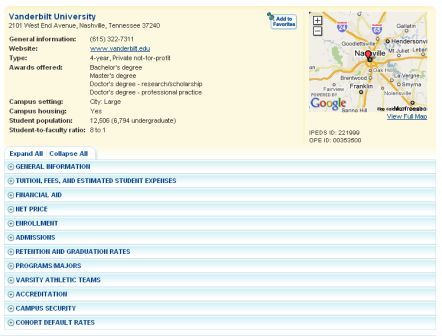 Here we find the answer to her question: for Fall 2010 admission 45% of reported scores were SAT and 65% were ACT.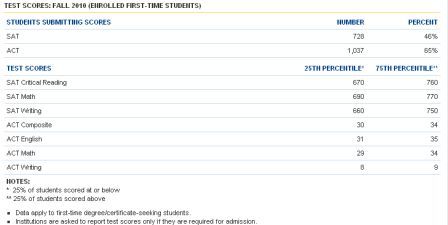 It's a fairly simple tool, but powerful once you realize how much information is at your finger tips.  College Navigator is results-oriented.  Yes, there is input data (percentage of students admitted), but more importantly there is output data.  How many students are actually graduating in 4 years?  Are graduation rates different by race?  The sticker price is overwhelming; what is the net price of this institution?  Are undergraduates able to repay their student loans or are they defaulting?
The Retention and Graduation Rate tab gives you more than you ever wanted to know about these topics; I personally feel these numbers are some of the most important data points available in college admissions

Intrigued by the concept of net price?  Check out Thom's blog on why you should care about net price.
Getting into college is one thing, paying for it is a whole different animal.  Check out the Project on Student Debt for more information on college loans and funding sources.
You can find the answers to all of those questions.  Use this information!  This is powerful both if you're a junior and just beginning the college search and if you're a senior and starting to make serious decisions.