Application Status UPDATE
You hit submit.  Whew.  Take a breather, you've earned it.  I understand that now you want to follow up and confirm we've received materials.  However, give us some time.  We have HUNDREDS of applications and pieces of applications pouring into our office every day.  It takes time to process all of that snail mail and to download the electronic documents.  Here's a peak into what happens once the materials leave your hands.
Admission counselors are the face of the process.  You see us at college receptions, high school visits, and fairs.  However, a tremendous amount of work on your application is actually processed by individuals you don't see.  The Admissions Processing Center (APC) hosts the fairy godmothers (and fathers) of OUA.
First, mail arrives at our door.  Every day we take in pieces from around the globe and trust me the mailman doesn't sort it for us.  Our first job is to figure out what's in all of these envelopes.  Below is a picture of a portion of the mail we received on November 1st.  I went down to the APC around 10:30 a.m. and they'd already  made a significant dent in that day's load.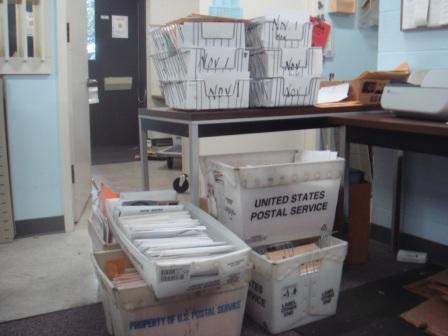 Once we've unveiled all of the day's mail it needs to be entered into our database.  Sometimes we simply record in our system that we received it (such as a letter of recommendation), other times we enter data points into our system (such as official test scores).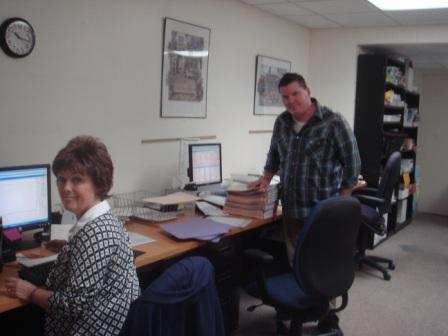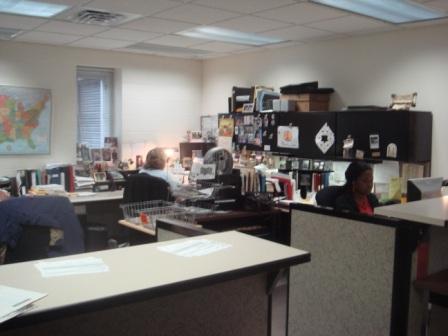 Once data is entered it is placed in bins to be filed.  APC workers take every single piece of paper and ensure it is placed in the correct manila file assigned to every applicant.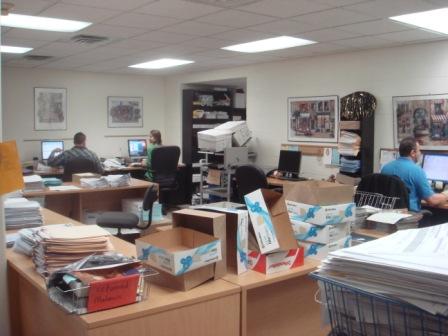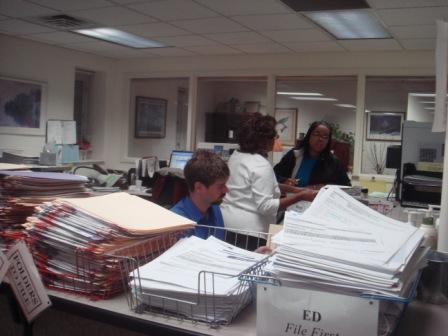 Since we enter all mail (both electronic and snail) into our database, we know when your file is officially complete. Once you send all required items and once we record and file all items, the file goes to our Admission Analysts.  These are pros who decipher and arrange your unique materials into an easy-to-read format.  They catch crucial mistakes (such as the transcript for John Doe in the folder for Jane Doe) and take an initial assessment of the application.
Finally, your application arrives on your counselor's desk.  To be accurate, into our reading bins.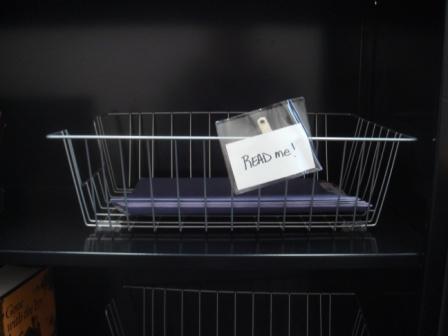 As you can tell from the massive pile of mail in the above picture, we're swamped right now.  It takes approximately one week for us to record and file your application pieces.  Since the Early Decision I deadline just passed this week some items are taking two weeks for processing.
Thus, don't call the moment after you hit submit.  Give everyone a breather.  All year we will be sending periodic incomplete notices via email.  As long as you keep checking your email, you will know if we are missing something.  A caveat, though: you may receive an incomplete notice simply because something has not wound its way through our APC, yet.
If you submitted something a month ago and you receive an incomplete notice, then it's time to check with your college counselor and, perhaps, your Vanderbilt admission counselor to identify the problem.
For Fall 2010 admission we had 21,811 applications – that is a lot of mail!  We do our best to get it right.  Your college counselor is processing tons of paperwork and they are doing their best.  Sometimes, though, mail disappears.  Don't freak out.  We will simply ask you to resend items to our office.
Questions?  Post here.