Learn more about Vanderbilt via VirtualVU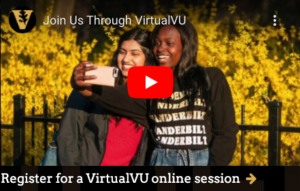 This fall, Vanderbilt's campus — like the rest of the world — looks a little different than normal. Students, faculty, and staff are anchoring down and stepping up to keep campus healthy and safe during the pandemic. That means finding creative ways of getting to know one another and of staying healthy in body and mind. It also means some current students are experiencing Vanderbilt virtually from their own homes.
The Office of Undergraduate Admissions also looks a little different this fall, since our in-person events for prospective students are currently suspended as we do our part to anchor down and step up for the VU community. While we aren't able to welcome prospective students on campus, we're offering you a wide range of online opportunities to learn about Vanderbilt through our VirtualVU series of webinars and live-streamed events. Here's a look at the different kinds of sessions available:
Whether you're just staring your college search or putting the finishing touches on your application, we hope VirtualVU offers something for you. We encourage you to create your own personalized VirtualVU suite by selecting the offerings which interest you most. And no matter what sessions you view, you can always get an in-depth look at Vanderbilt's campus through our virtual tour, which features student tour guides walking you through 25 locations on campus.
While we look forward to a time when we can welcome you back to campus, we hope you'll join us for a VirtualVU session (or several!) this fall.