Class of 2024 – Regular Decision Summary Statistics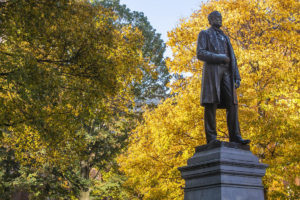 Last week we announced admissions decisions for the Regular Decision applicants to the Class of 2024.  We're excited to welcome these new students to the Vanderbilt community!
This year's admitted students were selected from an incredibly talented applicant pool. You can see a brief statistical summary of our Regular Decision admissions plan below to learn more about this group.
The strength of our applicant pool makes our work as an admissions staff both rewarding and challenging. We are honored to receive applications from such remarkable students. At the same time, such a remarkable pool of applicants means our process must be highly selective. Vanderbilt offers a collaborative learning environment with an excellent student-to-faculty radio, which means that our first-year class is limited by the capacity of our academic colleges and schools, and there are many talented applicants we are not able to admit. It is precisely because these decisions are so difficult to render that we put such careful consideration into our process.
We're grateful to everyone who applied, as well as to the parents, teachers, counselors, and others who supported applicants through their advocacy. Thank you.
Regular Decision Admissions, Vanderbilt Class of 2024
Regular Decision applications:  32,376
Admitted:  2,907
Admit Rate:  9.0%
Percent of students in the top ten percent of their graduating class:  96%*
SAT Middle 50% Evidence-Based Reading and Writing:  740-780
SAT Middle 50% Math:  770-800
ACT Middle 50%:  34-36
*based on high schools that provide rank
To our newest Vanderbilt students, we say congratulations! We understand that choosing your college destination for the next four years is an exciting time, but may be more challenging in this unprecedented period because of travel restrictions and social distancing. Your admit packet contains important information to help you learn more about Vanderbilt. In addition, we hope you'll join us for one of our online admitted student events, where you can get to know our community even more.
We've already seen many of you join the Official Class of 2024 Facebook group for admitted students, and we invite the rest of you to join as well in order to connect with other new students. It's been exciting to see many of you sharing your news on social media with the hashtag #vu2024 – we can't wait to see more!
From everyone at the Office of Undergraduate Admissions – from Dean of Admissions Douglas Christiansen and Director of Undergraduate Admissions John Gaines to all the admissions counselors, members of the Admissions Processing Center, student workers, tour guides, and student bloggers – Congratulations and Go 'Dores!
Welcome to Vanderbilt!