Class of 2024 – Early Decision by the Numbers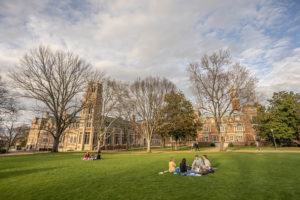 Earlier this month, we released Early Decision II admissions decisions to applicants to the Class of 2024. That wrapped up our Early Decision phase of admissions, so we are now able to share the summary statistics about the newest Vanderbilt students. Our Class of 2024 is shaping up to be an incredibly talented and accomplished group of students, and we're already looking forward to seeing them on campus for Move-In Day in August!
Vanderbilt Early Decision, Class of 2024 Summary Statistics
Percent of students who received one or more significant honors or held major leadership positions:  100%
Middle 50% SAT Evidence-Based Reading and Writing:  720-760
Middle 50% SAT Math:  770-800
Middle 50% ACT:  34-35
Percent of students in the top ten percent of their graduating class:  97%*
Number of countries represented:  30 countries
Number of U.S. States represented:  46 states plus the District of Columbia
Early Decision Admit Rate:  20.7%
*based on high schools that provide rank
We're grateful to each student who applied through Early Decision, and we welcome the new members of the Class of 2024.  We invite our newly admitted students to get to know other 'Dores through the Official Class of 2024 Facebook group. We also encourage new students to connect with VU through Twitter, Instagram, and other social media. Go 'Dores!