Webinar – Ask us your questions about Vanderbilt!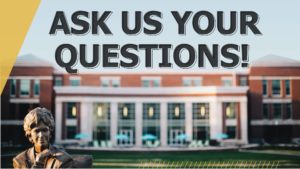 With the January 1 application deadline approaching soon, we're offering a webinar dedicated to answering your questions. After presenting a brief overview, a Vanderbilt admissions counselor will answer your questions about the admissions process, financial aid, academics, living on campus, and more. We hope you'll join us to get your questions answered.
Registration is required in order to participate in these information sessions. If you aren't able to attend a session at these times, don't worry — all students who register will  have access to a recording of the session after the fact.
We look forward to "seeing" you online soon!