Policy Update: VU Now Superscores ACT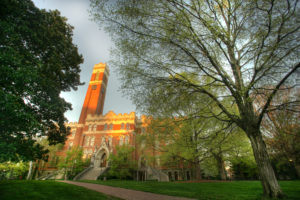 Effective immediately, Vanderbilt will begin superscoring ACT scores. Vanderbilt has superscored SAT scores for years, so this update means Vanderbilt will now superscore both the SAT and ACT.
Superscoring means a college considers the highest section scores across all testing dates. For example, if you take the ACT twice, we will consider your highest Math, English, Reading, and Science section scores even if those didn't come from the same testing date.
Here's a look at our full superscoring and score choice policy from our Application QuickGuide:
Vanderbilt strongly encourages students to submit scores each time they take either the SAT or the ACT.
Vanderbilt will superscore both the SAT and the ACT.
Only the highest section scores for either the SAT or the ACT will be considered as part of the admissions review process.
Each time SAT or ACT scores are submitted, the student's record is updated with the new high section scores.
Vanderbilt considers the highest SAT superscore or the highest ACT superscore.
If a student submits both SAT and ACT scores, Vanderbilt will consider the highest superscore from either the SAT or the ACT, whichever is best.