Community on The Commons
This week Vanderbilt welcomes the Class of 2023 to campus. International first-year students are already arriving in Nashville – and getting welcomed by Mr. C and Vice Provost Vanessa Beasley at the airport! Tomorrow, first-year students move in and officially begin their time on campus as Commodores.
When students move in at Vanderbilt they are welcomed into the first-year community of The Martha Rivers Ingram Commons. It's the center of the first-year experience at Vanderbilt, where students find deep friendships, powerful ideas, and transformative faculty members. Students come from across the country and around the world to find common ground with one another at the start of their Vanderbilt experience.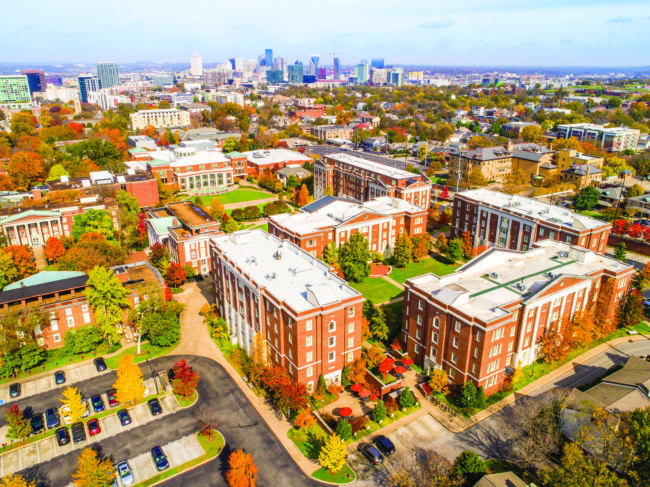 On The Commons, all first-year students live in one of ten residential houses. These houses are led by faculty heads of house, distinguished researchers, scholars, and teachers who provide leadership for the house community. In addition to these faculty leaders, The Commons is led by a dean who lives in residence. This year, The Commons welcomes a new dean, Associate Professor Melissa S. Gresalfi. The dean hosts open houses, dinners, debates, and performances at her residence throughout the year.  First-year students also spend a lot of time at The Commons Center, a student center featuring a large dining hall, a workout space, group study areas, the political science department, an academic support center, a career office, and a 24-hour market.
The Commons supports a range of programming throughout the year, from house-specific events to community-wide celebrations like The Commons Ball. Other programming includes Commons Mix-Ups, in which houses pair up so that students have the opportunity to meet classmates and faculty from other houses, and The Commons Cup, a year-long competition in which houses earn points for excellence in academics, athletics, community involvement, service, and sustainability. Programs such as The Commons Lecture Series and Commons iSeminars help first-year students explore areas of interest and discover passions.
The Commons is a community based on the philosophy that "students, faculty, and staff create a residential collegiate experience that rests on discovery, creative inquiry, and engaged citizenship." We're excited to welcome the talented students of the Class of 2023 into this remarkable community.
You can learn more about what makes The Commons community special – including a look at Vanderbilt move-in day – through the video below. We look forward to welcoming the Class of 2023 to campus – we can't wait to get to know you! Anchor Down!