Introducing New Blogger John Robert Linscomb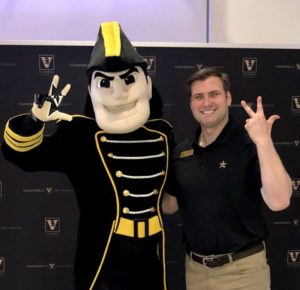 Hi, my name is John Robert Linscomb; I am an undergraduate Admissions Counselor at Vanderbilt University. I am proud to be a new member of Vanderbilt's blogging team.
I grew up in Washington, D.C. and graduated from Baylor University, where I majored in political science and business. I worked in Austin, Texas and Lafayette, Louisiana before joining Commodore Nation and moving to Nashville, Tennessee.
From the first moment I stepped onto Vanderbilt's campus, I fell in love with the university's commitment to providing an uplifting and inclusive undergraduate experience. No matter where a student is from or what a student's interests are, everyone can find their college family at Vanderbilt. A student once told me, "I feel like the entire Vanderbilt administration is rooting for me to succeed." After being at the university for over a year, I can honestly say the phrase "rooting for students" can aptly be applied to every Vanderbilt faculty and staff member I know.
I am a big Commodore athletics fan! Friends can often find me #AnchoringDown at Vanderbilt football and baseball games. I am also a passionate Nashville Predators fan. I grew up playing ice hockey and I am consistently impressed with the way Nashville embraces the sport. During the Predators' Stanley Cup run last year, the entire city seemed to celebrate each time the Preds scored a goal.
I feel very fortunate to work at such a wonderful university and to live in such a vibrant city. The Vanderbilt community is intellectually collaborative, supportive, and inclusive. I cannot think of a better or more inspiring atmosphere for a student to enter into. I look forward to helping students navigate the admissions process this year! Go 'Dores!