Move-in 2018
With the opening of applications for the Class of 2023, this month marked the beginning of another admissions season. At the same time, we also celebrated the completion of last year's cycle as we welcomed the Class of 2022 to campus. Last weekend, our newest Commodores moved into The Martha Rivers Ingram Commons, their home at Vanderbilt for the first year.
It seems like it was just yesterday that we were out on the road meeting these students, reading their applications, and sending out their letters of admission.
And now they're Vanderbilt students!

Their VU experience started with the rush of move-in, where hundreds of returning students known as the Move Crew greeted them with cheers and open arms — arms ready to do all the heavy lifting so that new students don't have to carry a thing. New students are also welcomed by Chancellor Zeppos, Interim Dean of The Commons Gregory Melchor-Barz, the Faculty Heads of House, and other faculty and staff. The whole community joins in welcoming these new students! Here's a look at the excitement of the day: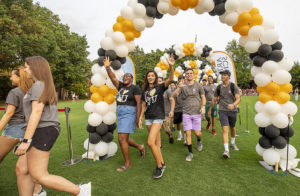 The excitement doesn't stop there, as first-years students were just getting started on CommonVU, Vanderbilt's new-student orientation. CommonVU includes other great Vanderbilt traditions like the official class photo, Founder's Walk, and the Honor Code signing ceremony, as well as important information as these students transition to the academic and social life of campus. This year, CommonVU also includes something extra special: the entire Class of 2022 has the opportunity to attend the Beyonce and Jay-Z concert tonight at Vanderbilt Stadium!
We're so excited that the Class of 2022 is now on campus with us! Now, who's ready to go find the Class of 2023?