Register now for Vanderbilt & You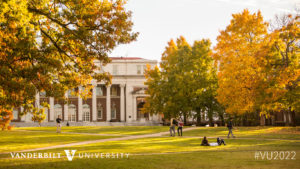 Registration is open for our upcoming Vanderbilt & You receptions for admitted students. Whether you're still making your decision about where to enroll or you've already claimed your spot in the Class of 2022, we hope you'll join us at a Vanderbilt & You reception near you! These events are a great way to connect with other admitted first-year students and learn more about Vanderbilt. You'll also have the chance to meet VU alumni and admissions representatives who can answer your questions or tell you more about academics, campus life, or living in Nashville.
Vanderbilt & You events will be held in cities around the country and abroad. Check out the list below or visit the Vanderbilt & You page to learn more and register for the program.
We hope to see you at an event this April!
City

Date

Time

Venue

Registration   

Atlanta
Saturday, April 7
1 – 3 p.m.
City Club- Brookhaven
53 W Brookhaven Dr. NE
Atlanta, GA 30319
Registration
Boston
Saturday, April 14
2 – 4 p.m.
Courtyard Boston Downtown
275 Tremont Street
Boston, MA  02116
Registration
Charlotte
Thursday, April 19
5:30 – 7:30 p.m.
ImaginOn The Boardroom
300 E. Seventh Street
Charlotte, NC 28202
Registration
Chicago
Wednesday, April 18
6:30 – 8:30 p.m.
Chicago Marriott Suites Downers Grove
1500 Opus Place
Downers Grove, IL 60515
Registration
Chicago
Sunday, April 8
2 – 4 p.m.
JW Marriott Chicago
151 West Adams Street
Chicago, IL 60603
Registration
Columbus
Sunday, April 22
3 – 5 p.m.
Matt the Miller's Restaurant and Tavern
6725 Avery-Muirfield Drive
Dublin, OH 43016
Registration
Dallas
Saturday, April 21
2 – 4 p.m.
Magnolia Hotel Dallas Park Cities
6070 North Central Expressway
Dallas, TX 75206
Registration
Houston
Saturday, April 21
2 – 4 p.m.
The Pass & Provisions
807 Taft Street
Houston, TX 77019
Registration
Los Angeles
Saturday, April 21
2 – 4 p.m.
DoubleTree Suites Santa Monica
1707 4th St
Santa Monica, CA 90401
Registration
New York
Saturday, April21
3 – 5 p.m.
JW Marriott Essex House
160 Central Park South
New York, NY 10019
Registration
Miami/Ft. Lauderdale
Sunday, April 22
1 – 3 p.m.
Miami Marriott Biscayne Bay
1633 N Bayshore Dr
Miami, FL 33132
Registration
Nashville
Thursday, April 12
6:30 – 8 p.m.
The Ingram Commons Center
Multipurpose Room
1281 18th Avenue South
Nashville, Tennessee 37212
Registration
Philadelphia
Wednesday, April 11
6:30 – 8 p.m.
Sheraton Valley Forge Hotel
480 N Gulph Rd
King of Prussia, PA 19406
Registration
Shanghai
Saturday, April 21
1 – 3 p.m.
JW Marriott Tomorrow Square
399 Nanjing W Road
Huangpu Qu
Shanghai Shi, China, 200003
Registration
Tampa
Saturday, April 21
3 – 5 p.m.
Crowne Plaza Tampa Westshore
5303 West Kennedy Boulevard
Tampa, FL 33609
Registration
Washington, D.C.
Sunday, April 8
3 – 5 p.m.
Lyon Hall
3100 Washington Blvd.
Arlington, VA 22203
Registration