Introducing Vanderbilt's New Residential Colleges
Vanderbilt University's $600 million investment in constructing four new residential colleges is well under way with a scheduled completion by 2023. The first of their kind at Vanderbilt, Warren and Moore Colleges opened their doors in 2014. Over the next several years, Vanderbilt will construct four more residential colleges along West End Ave. Up first, E. Bronson Ingram College, located right next to our office at 23rd and West End Avenue, opens to students this fall. Construction has begun for the next residential college at 25th and West End, and two more will follow where the Carmichael Towers now stand.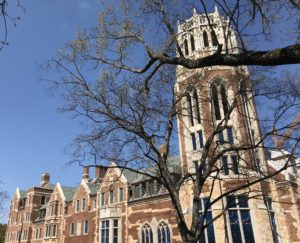 These colleges are open to sophomores, juniors, and seniors as they transition from their residential life as first-year students at The Martha Rivers Ingram Commons. Residents will have access to dining facilities, multipurpose rooms, meeting areas, courtyards, and other features unique to each residential college. Following the philosophy of Vanderbilt's living learning communities, a faculty head of house together with selected graduate students will live alongside undergraduate residents to provide leadership, promote balance in a student's academics and co-curricular commitments, foster intellectual conversations about the happenings of the world, and build healthy communities with each other.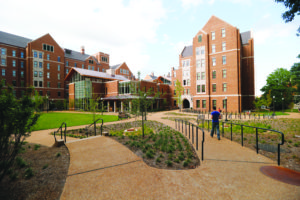 "The biggest advantage to living in a residential community is the consistent programming that affords you the opportunity to meet all kinds of people and professors," junior Télyse Masaoay, Tour Guide and head resident of Warren and Moore Colleges, told me. "During one of my favorite events, we passed out free succulent plants, painted the pots together, and chatted with the director of the Vanderbilt greenhouse. These kinds of programs help us get more connected to the people who live around us while simply being a lot of fun."
Currently, after their first year living on The Commons, students have the option to apply to Living Learning communities which include The McGill Project, where groups of students are encouraged to work on projects to present at the McGill's Annual Spring Showcase; McTyeire International House, where students with foreign language interests speak their target languages; and The Mayfield Experience, where students pursue an interest in service.

The Commons is an example of such a community that houses all incoming first-year students. Each student is assigned to one of the 10 houses on campus equipped with amenities and a leadership team that is made up of the faculty head of house, a head resident, and resident advisers. Planned programs ranging from a welcome mixer for new residents and their parents, seminars hosted by influential figures or social clubs, weekly themed dinners, to the Commons Cup make up the academic year. The live-in faculty, staff, and students contribute to a diverse atmosphere that promotes self-discovery in the midst of peers, cultivates cultural awareness by celebrating differences, and embraces learning from all walks of life. Relationships built within The Commons bring about a sense of belonging and last well after students have left their mark at Vanderbilt.
The motivation behind this project is in line with Vanderbilt's promise to invest in its students and to spread their Vanderbilt experience into the community. We pride ourselves in attracting academically talented and engaged individuals who will take full advantage of our dynamic campus experience, which is fostered in part through our residential college communities.
To learn more about this living-learning initiative – click here.