Introducing OUA's Communications Coordinator – Mabel Kok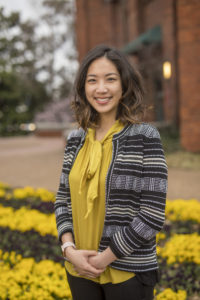 Hi, I'm Mabel Kok, and I'm the newest admissions blogger. Being the newest addition to Vanderbilt's Office of Undergraduate Admissions team has become the highlight of my move to Nashville. I am joining the team as the Communications Coordinator tasked with managing our projects, maintaining our listings in guidebooks and online profiles, and contributing to our online presence – basically all things communications.
My love for the English language and writing inspired me to pursue an education in the United States, leaving behind my beautiful tropical home, Penang, Malaysia. I was enrolled in the School of Journalism at the University of Kansas and graduated in 2013. Professionally, I have worked in technology and healthcare industries but neither brought me greater satisfaction than when I was a student worker at my university. Being surrounded by educators amidst an environment that fosters creative learning was where I wanted to be, and what has led me to Vanderbilt today.
I would describe myself as a "New Nashvillian" having only been here since the fall. My husband and I have hit the ground running in our quest to find our new "favorites" ranging from Asian restaurants and hole-in-the-wall coffee shops. Our throw-a-dart-at-the-Nashville-map method of selecting our neighborhood landed us in a scenic home in West Nashville with the added bonus of being under 15 minutes from downtown. We're thrilled to be able to embark on our newlywed journey and start a family in a city known as both Music City and the Athens of the South – a city that has it all.
Vanderbilt has been the epitome of Nashville hospitality through its warm welcome and celebration since my arrival. I am thrilled at the future possibilities of forging my own path among one of the most intellectual and talented communities I've ever experienced. If you had told me 15 years ago, the girl living on a Southeast Asian island who spent her free time circling typos in the local newspaper that I would one day be a Commodore at this top 15 national university, I would have had my bags and red pen packed before you could say "Anchor Down!"