Welcome, Class of 2022!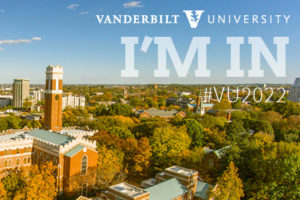 Earlier this month, we welcomed the first members of the Vanderbilt Class of 2022 when we released our Early Decision I admissions notifications. Since then, we've been watching the excitement with which these new 'Dores have been sharing their news. Check out the posts below to see some of the fun.
To our newly admitted students, congratulations and welcome to Vanderbilt. Keep up those #vu2022 posts! If you're counting the days until move in (232, to be exact), here are some ideas for how to fill your time.
Join the Class of 2022 Facebook group, the official group for admitted students where you can connect with other members of the Class of 2022, ask questions to current students, and share your excitement about becoming a Commodore.
Visit the website of The Martha Rivers Ingram Commons to explore the online community for your new home.
Read the Inside 'Dores Blog, where our student bloggers will continue to give you an inside look at the student experience of Vanderbilt.
Explore the Course Catalog. It's never too early to start looking at potential classes or daydream about your life on campus next year.
Contact a student with questions. You have no idea how excited our current students get when they receive emails from new admits. They would love to hear from you, and they're a really great resource for learning about life at Vanderbilt.
Anchor Down!
The school of my dreams, and a place I can't wait to attend. I'm thankful for all the support I've received along the way, and I'm proud to be a 'Dore!! #vu2022 pic.twitter.com/OOJvPmDykN

— Eric Bley (@eric_bley) December 15, 2017
Nashville here I come! So humbled and excited to announce that I will be attending Vanderbilt next year! #vu2022

— Noah de Comarmond (@noah_the_d) December 15, 2017
My first tweet ever. Great way to start! Grateful 🙏 #VU2022

— Alethea Chaney (@alethea_chaney) December 15, 2017
So excited to announce that I will be studying Special Education at Vanderbilt University this fall! Go 'Dores!⚓️ #VU2022 #AnchorDown pic.twitter.com/kCGGEUuGid

— Molly Mensch (@themollymensch) December 15, 2017
Excited to announce I have been accepted and will be attending Vanderbilt University next year (and Logan too)!⚓️ #VU2022 pic.twitter.com/JbgucCPeWz

— Brandon Pasternak (@brandonp_15) December 16, 2017
I'm so excited to announce that I'm going to be studying Biological Sciences at Vanderbilt University this fall. ⚓️⚓️ #VU2022 pic.twitter.com/MJjpQpEL3S

— Elizabeth (@Liz_Rosenthal_) December 19, 2017