Application Deadlines Approach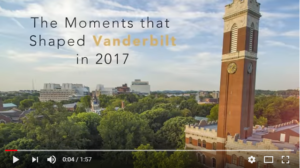 2017 has been a big year for Vanderbilt:  Graduating the Class of 2017 and welcoming the Class of 2021; celebrating the life of alumnus and civil rights pioneer Perry Wallace; marveling at a total solar eclipse. You can see more of the highlights from a remarkable year in this great year-in-review video.
The end of the year isn't just a time to reflect on those amazing highlights (or to enjoy the start of your high school's winter break). For seniors, it's also time to wrap up your application in advance of the January 1, 2018 application deadline. If you haven't yet, here are three steps to get everything set before the deadline:
Note:  January 1 is the application deadline for both Early Decision II and Regular Decision.
Step 2 – Set up your MyAppVU Account. After you've submitted your application, you'll receive an email from our office instructing you on how to create your MyAppVU account. MyAppVU allows you to track your application status and see if you have any missing required materials. If you encounter technical difficulties, contact myappvu@vanderbilt.edu with questions about creating your account.
Step 3 – Take care of any missing materials. Once you've set up your MyAppVU account, check to see if any application materials are missing. Your MyAppVU portal makes it easy with a checklist of required items.
Bonus Step – Don't forget about the financial aid deadlines! If you're applying through Early Decision II, January 2 is the priority filing deadline for submitting the CSS PROFILE and FAFSA. If you are applying through Regular Decision, February 1 is the priority filing deadline for submitting the CSS PROFILE and FAFSA.
There you have it, seniors. Three easy steps so that you're ready to ring in the new year with your college applications finished!