Merit Scholarship Application Deadline – December 1, 2017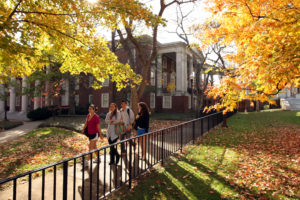 Thanksgiving has come and gone, and I hope you enjoyed your break!
It's almost here! The deadline to apply for Vanderbilt's merit scholarships – the Ingram Scholarship Program, the Cornelius Vanderbilt Scholarship, and the Chancellor's Scholarship – is Friday, December 1 at 11:59pm Central Time.
So how do you apply? Great question! Take a look at the steps below:
You must first apply for admission separately by submitting the Common Application, Coalition Application, QuestBridge Application, or the Universal College Application to Vanderbilt. Learn more about applying to Vanderbilt.
Within two business days of submitting your application for admission for Vanderbilt, you will receive an email from the Office of Undergraduate Admissions on how to create your MyAppVU account.
Once you have access to your MyAppVU account, you will be able to upload your scholarship application in PDF format.
If you do not see a green check mark and date of submission after uploading your scholarship application, your application was not successfully submitted.
The questions for the scholarship applications are available on our Merit Scholarhip page to review in advance.
For more information about our merit scholarships, see my recent post.
Feel free to get in touch with us if you have questions. Contact our office at 615-322-3591 or scholarships@vanderbilt.edu if you need assistance.