Summer in the City – Visiting Vanderbilt & Nashville
Summer is a great time to visit Vanderbilt and Nashville. With so much happening in the city and great visiting opportunities on campus, it's the perfect fit for a summer trip. Here's what you need to know to plan a great visit.
Step 1 – Pick the campus visit option that's right for you – Vanderbilt offers two visit options during the summer. Our primary visit option is our daily information session and campus tour. Open to any and all prospective students, this one-hour presentation and 90-minute tour are a great introduction to the Vanderbilt community, our admissions process, and our financial aid policies. For students heading into their senior year this fall, we offer PreVU, a full-day visit program that gives you an in-depth look at campus. At PreVU you have the opportunity to talk with VU faculty about academic programs or undergraduate research opportunities, take a student-led campus tour, and get insight on college admissions and financial aid from Vanderbilt experts. To learn more about PreVU, see dates, and to register, visit the PreVU page of our site. Both of these visit programs fill quickly, so be sure to register!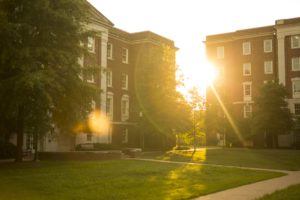 Step 2 – Pick a place to stay – Nashville has become a major travel destination (check out Frommer's Travel Guide's "Best Places To Go In 2017"), so you'll want to find a place to stay that gives you the chance to explore Music City and its varied neighborhoods. Vanderbilt offers a listing of local hotels for Vanderbilt visitors to help you get started.
Step 3 – Pick some things to do – Concerts, museums, festivals, parks, professional sports, the arts – Nashville has it all, and you'll want to plan ahead to make the most of the city that Travel & Leisure recently included on its list of "50 Best Places to Travel." A great place to start your planning is Visitmusiccity.com, which maintains listings for a wide variety of Nashville events and destinations. Just make sure to schedule around your campus visit!
Step 4 – Pick something to eat – In recent years, Nashville has earned a reputation as one of America's best places to eat. Last year, Zagat listed Nashville among its top 20 "Hottest Food Cities." From Nashville originals like hot chicken to southern classics to fine dining and everything in between, there are tastes for everyone in Nashville. While you're planning your meals, don't forget campus food. Vanderbilt's award-winning dining is open in the summer, and offers prospective students a great way to get a taste of campus. (PreVU includes lunch at The Commons Center!)
If you're not convinced yet, you should know that Nashville has been ranked as the friendliest city in the country (Travel & Leisure). Come see why!