Vanderbilt & You, Class of 2021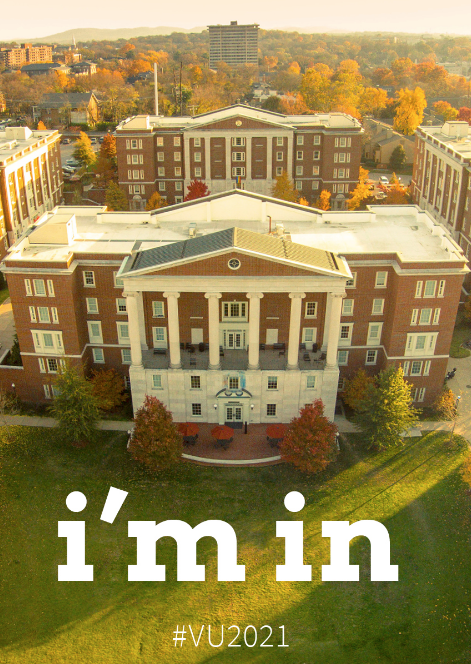 This April we're holding more than 25 Vanderbilt & You receptions across the country and beyond to welcome  admitted students to the Commodore community. Whether you're still deciding about where you'll spend the next four years or you've already claimed your spot at Vanderbilt, these receptions are a great way to learn more about life at VU. You'll have the chance to meet Vanderbilt alumni and representatives from the Office of Undergraduate Admissions who can answer questions for you about academics, living on campus, Nashville, and more. It's also a great way to meet other admitted students from your area. If you've already been connecting with other future Commodores in the Official Class of 2021 Facebook group, this is a chance to meet in person!
To find out more and register for an event in your area, visit our Vanderbilt & You page. You can also see a map of upcoming Vanderbilt & You events below. We hope to see you at an upcoming Vanderbilt & You event this April, and then on campus in the fall for move-in!
View Vanderbilt and You Events – Class of 2021 in a full screen map
City

Date

Time

Venue

Registration   

Atlanta
Thursday, April 20
6:30 – 8 p.m.
Deloitte
191 Peachtree Street NE, Suite 2000
Atlanta, GA 30303″
Registration
Austin
Thursday, April 20
6:30 – 8 p.m.
Hotel Ella
1900 Rio Grande
Austin, TX 78705
Registration
Birmingham
Thursday, April 20
5:30 – 7 p.m.
Offices of Lightfoot, Franklin and White
400 20th Street North
Birmingham, AL 35203
Registration
Boston
Saturday, April 22
3:30 – 5 p.m.
Courtyard Boston Downtown
275 Tremont Street
Boston, MA  02116
Registration
Charlotte
Wednesday, April 19
5:30 – 7 p.m.
ImaginOn The Boardroom
300 E. Seventh Street
Charlotte, NC 28202
Registration
Chicago
Saturday, April 8
2 – 4 p.m.
The Drake Hotel
140 E Walton Pl.
Chicago, IL 60611
Registration
Chicago
Wednesday, April 19
6:30 – 8 p.m.
Chicago Marriott Suites Downers Grove
1500 Opus Place
Downers Grove, IL 60515
Registration
Columbus
Wednesday, April 19
6 – 7:30 p.m.
LaRosa's Pizzeria
7048 Hospital Dr
Dublin, OH 43016
Registration
Dallas
Wednesday, April 19
6:30 – 8 p.m.
Magnolia Hotel Dallas Park Cities
6070 North Central Expressway
Dallas, TX 75206
Registration
Denver
Tuesday, April 18
6 – 7:30 p.m.
Daniels Fund
101 Monroe St.
Denver, CO 80206
Registration
Houston
Wednesday, April 12
6:30 – 8 p.m.
The Houstonian Hotel
111 North Post Oak Lane
Houston, TX 77024
Registration
Kansas City
Saturday, April 22
2 – 3:30 p.m.
Marriott Country Club Plaza
4445 Main St
Kansas City, MO 64111
Registration
Long Island
Saturday, April 22
2 – 3:30 p.m.
Suffolk County JCC
74 Hauppauge Rd
Commack, NY 11725
Registration
Los Angeles
Saturday, April 22
2 – 3:30 p.m.
DoubleTree Suites Santa Monica
1707 4th St
Santa Monica, CA 90401
Registration
Memphis
Thursday, April 20
6 – 7:30 p.m.
Fleming's Prime Steakhouse
6245 Poplar Ave
Memphis, TN 38119
Registration
Miami/Ft. Lauderdale
Wednesday, April 19
7 – 8:30 p.m.
Hilton Miami Airport
5101 Blue Lagoon Dr
Miami, FL 33126
Registration
Nashville
Thursday, April 20
6:30-8 p.m.
The Ingram Commons Center
Multipurpose Room
1281 18th Avenue S
Nashville, TN 37212
Registration
New York City
Sunday, April 23
2 – 4 p.m.
Convene Conference Center
101 Park Ave
New York, NY 10178
Registration
Philadelphia
Saturday, April 22
2 – 3:30 p.m.
Conrad O'Brien PC
1500 Market St #3900
Philadelphia, PA 19102
Registration
Phoenix
Wednesday, April 19
6 – 7:30 p.m.
Burton Barr Central Library
1221 North Central Ave
Phoenix, AZ 85004
Registration
Raleigh
Thursday, April 20
6 – 7:30 p.m.
Coquette
4351 The Cir At N Hills St
Raleigh, NC 27609
Registration
San Diego
Monday, April 24
6:30 – 8 p.m.
Courtyard San Diego Downtown
530 Broadway
San Diego, CA 92101
Registration
San Francisco/Palo Alto
Saturday, April 22
2 – 3:30 p.m.
Menlo Park Arrillaga Recreation Center
700 Alma St.
Menlo Park, CA 94025
Registration
Seattle
Wednesday, April 26
6 – 7:30 p.m.
Founder's Room at Benaroya Hall
200 University St
Seattle, WA 98101
Registration
Shanghai
Sunday, April 16
1 – 3 p.m.
JW Marriott Tomorrow Square
399 West Nanjing Road
Shanghai Shi, China, 200003
Registration
St. Louis
Sunday, April 23
3 – 4:30 p.m.
The Lodge, Des Peres
1050 Des Peres Rd
St. Louis, MO 63131
Registration
Tampa
Tuesday, April 18
6:30-8 p.m.
DoubleTree Tampa Airport
4500 West Cypress Street
Tampa, FL 33607
Registration
Washington, D.C.
Saturday, April 22
3 – 4:30 p.m.
Lyon Hall
3100 Washington Blvd.
Arlington, VA 22203
Registration