Hometown Favorites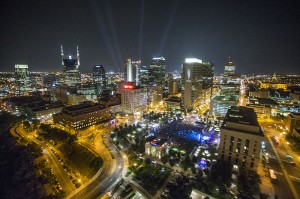 Everyone knows our beloved city of Nashville as Music City, but what I love about Nashville is the food. As a Californian I grew up eating the best fresh fruits and veggies from the Redwood City farmer's market, the best fish 'n chips from Cook's Seafood in Palo Alto, and the incomparable kung pao chicken from Jin-Jing off of University Avenue, so I have pretty high standards for my food. Nashville blew those expectations out of the water. Recently, I solicited the help of a few colleagues to hear about their favorite local eats when they are on the road, and where they get their fix when they're in Nashville.
Harper Haynes, Senior Assistant Director of Admissions, has been traveling to South Carolina since before I can remember, and has become the in-office expert on where to go and what to eat in the Palmetto State. At the top of Harper's list is the fried chicken from the Hominy Grill in Charleston, South Carolina. As she describes it, "The crispy flavorful skin locks in the juicy chicken underneath." If you find yourself craving that kind of fried chicken goodness in Nashville, Harper urges you to hop on over to Puckett's Grocery & Restaurant, just a skip and a jump over from Vanderbilt's campus. The secret to good fried chicken, according to our expert Harper, is, "it should take at least 25 minutes to get to your table–if fried chicken gets to you in less than that amount of time, there is nothing fresh about that chicken." Although 25 minutes may seem like a lifetime when you're hungry, Harper assures us that "it is well worth the wait."
I don't know about you, but after a heavy meal like fried chicken all I want to do is…EAT DESSERT. Luckily, admissions counselor Garth Parke has the cure, just put on a winter coat and head up north to Minnetonka, Minnesota and grab a maple bacon donut from YoYo Donuts & Coffee Bar. Now, even though I fully support flying to Minnesota for a maple glazed donut topped with bacon, you shouldn't buy your ticket just yet. Nashville's ownFive Daughters Bakerywill quell any YoYo donut craving you may have with their maple-glazed, bacon-topped, 100-layer, flakey, buttery cronut. This family owned bakery offers the best donut I have ever had — and I have had my share of donuts. Originally this bakery was set Franklin, TN, but there are now locations in  East Nashville and 12 South, just a few minutes from Vanderbilt's campus. Yay!
If there is any admissions counselor in our office who knows good sweets, it is Sam Joustra. From ice cream to pie to candy, and every sweet treat in between, Sam loves them all. When traveling in Southern California in the fall, Sam's favorite place for a sweet treat is Pie Hole in Orange, CA. Now with pie, Sam has no favorites, whether it's Pie Hole's Earl Grey pie, traditional apple pie, or ultimate s'mores pie, Sam loves them all. If you find yourself considering Vanderbilt University for your next step into college, but you're worried about where you are going to have access to your favorite pie, fear not! The Loving Pie Company in Nashville is here to satisfy that sweet tooth. Whether it's Mexican chocolate pie, pumpkin chess pie, or even coffee chess pie for that afternoon pick-me-up, The Loving Pie Company bakes their pies right, always from scratch and with a lot of love.
While dessert is a very integral part of any meal, as someone who has lived on a coast for most of my life, my must-have is seafood. I love seafood in any and every form, whether it's in a sushi roll or sautéed with some linguine in an herb, butter sauce. Shane McGuire, our admissions officer for most of New England, agrees. "New Englanders love their lobster (or should I say lobstah). I love several of the lobster shacks in Maine, but my favorite Maine lobster roll is the brown butter lobster roll from Eventide in Portland. We all know Maine has the best lobster, but Boston also has an awesome spot for a great lobster roll at Neptune Oyster in the North End." While you may think quality seafood would be nowhere to be found in our landlocked state, you would be wrong. Lockeland Table in East Nashville has created delicious NE lobster roll tacos, with a little guacamole and brown-buttered panko. This delicious dish will make you feel like you are back on the New England coastline.
Well there you have it, from the Northeast to the West Coast, and some places in between, I hope this post shows you that you can find a little taste of home in our spectacular city of Nashville. Happy Eating!