Deadlines!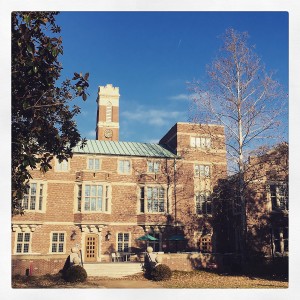 The end of the year is fast approaching, and in the world of college admissions, that means one thing: application deadlines. If you are a high school senior wrapping up your fall semester and heading into winter break, don't forget to circle January 1, our application deadline for both admissions and merit scholarships.
What do you need to do before the deadline, you might ask? It just so happens that we have a helpful checklist for you. Here you go:
Note:  January 1 is the application deadline for both Early Decision II and Regular Decision.
Step 2 – Set up your MyAppVU Account. After you've submitted your application, you'll receive an email from our office instructing you on how to create your MyAppVU account. MyAppVU allows you to track your application status and see if you have any missing required materials. Contact myappvu@vanderbilt.edu with questions about creating your account.
Step 3 – Take care of any missing materials. Once you've set up your MyAppVU account, check to see if any application materials are missing. Your MyAppVU portal makes it easy with a checklist of items.
Step 4 – Apply for Merit Scholarships. Scholarship applications are available through your MyAppVU portal after you apply for admission. Check out our recent post on merit scholarship applications for more details about individual scholarships and application requirements.
What about need based financial aid? If you're apply through Early Decision II, January 2 is the priorityfiling deadline for submitting CSS PROFILE and FAFSA. If you are apply through Regular Decision, February 1 is the priority filing deadline for submitting CSS PROFILE and FAFSA.
Those are the deadlines, but my advice is to not wait until the last minute. Use our checklist to finish you applications for admissions, merit scholarships, and financial aid, then enjoy your winter break!
Happy Holidays from Vanderbilt OUA.