New Student Video: Cici Zhang—"An Ambitious Young Woman"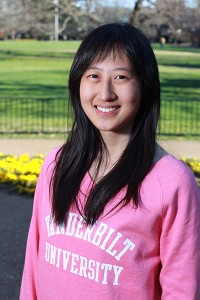 Cici Zhang, current senior from Beijing, China, is truly mutli-faceted. An honors student in Peabody's child development major, Cici minors in quantitative methods and human and organizational development. She's conducted research in Vanderbilt's Infant Learning Lab, and at Beijing Normal University, comparing parenting styles in her native China and the U.S., and how those styles affect motor development in babies. Cici is also a part of the team that maintains Vanderbilt's Chinese-language social media profiles on platforms like Weibo and Renren.
With this varied set of accomplishments, it's no wonder Cici is the subject of a new profile from Vanderbilt News & Communications.
At Vanderbilt, Cici has found a passion for research and discovery. Here's how her professor, Amy Needham (chair of the Department of Psychology and Human Development), described Cici's academic research:
"She went back home to Beijing, and she, on her own, forged this connection with a research lab at Beijing Normal University. She was collecting data with Chinese babies in Beijing for almost the whole summer," Needham said. "What an ambitious young woman, and what a great idea that she had. I am quite sure that the data Cici has collected will be publishable."
One of Cici's interests outside of the classroom is photography, and it was a beautiful photo of Kirkland Hall that initially drew her to Vanderbilt. Now, as a member of OUA's Global Ambassadores and social media teams, she's helping to connect prospective students to Vanderbilt. In addition to her work with Chinese social media, Cici also contributes her own gorgeous campus photos, like the one below, to the official VU Admissions Instagram account.
Reflecting on her time at Vanderbilt, Cici knows she found a good college fit. "The diversity here, the academics, and all of the different opportunities on campus just really made me feel like I'm at the right place," she says. If you are wondering if Vanderbilt would be a good fit for you, Cici and other Global Ambassadores are just a click away–visit our Contact a Student page to find a Global Ambassadore, Student Blogger, or Tour Guide who can answer your questions about VU student life.
Learn more about Cici, her path at Vanderbilt, and the Vanderbilt community in the full feature video below.