Pets of OUA
While, sadly, allergies have prevented me from having a pet of my own, I have still always shared in the love of furry creatures. There is just something about a small fluffy puppy or a sweet soft cat that lifts the spirits. Even though I can't have a dog or cat of my own, my allergies will always hold out long enough to enjoy the company of my colleague's pets any time they visit. Today, in honor of the furry creatures that bring us joy, I am happy to introduce the Pets of the Office of Undergraduate Admissions at Vanderbilt University.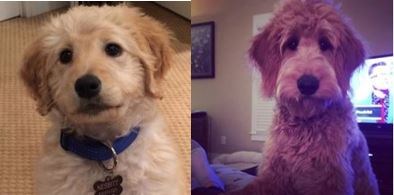 First on the docket is a brother and sister team, Hawley Chapman, dog to Senior Assistant Director Julie Chapman, and Eleanor Rigby Nesbitt, dog to Senior Assistant Director John Nesbitt. Although from different litters, Hawley and Eleanor come from the same parents in Kentucky.
Older sister Eleanor's name stemmed from her human's love of The Beatles. "If it wasn't Ellie it would have been Penny Lane," says Nesbitt. Eleanor, Ellie for short, loves nothing more than to hang out and cuddle with all her human friends on the couch. When a burst of energy strikes, Ellie loves to run around Bells Bend Park, in Nashville. While Ellie sticks to dog food specific diet, sometimes her human will treat her to a spoon of peanut butter. While Ellie could spend the entire day on the couch eating peanut butter, her younger sister Hawley Chapman would rather be outside playing ball.
Hawley was named after her human's favorite winery in Sonoma County, CA. At 10 months, Hawley is still mastering the art of catch, but she can walk through people's legs with the best of them; her favorite place to do both is on the Greenway in Sylvan Park in Nashville. What is the quickest way to this Golden Doodle's heart you ask? Scratch the spot right above her tail and she will love you forever.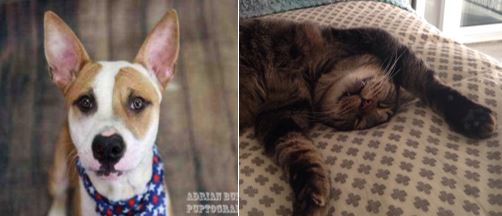 Another dynamic duo are Giselle and Geoff, cat and dog to admissions counselor Allison Key. While Geoff came to Allison with his name, Giselle's name was given to him based on his diva behavior.  Both cat and dog love to jump, and eat anything their human, Allison, will give them, especially if it's peanut butter.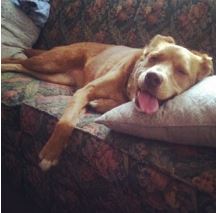 Next up is Cami McGuire, dog to admissions counselor Shane McGuire. This Alaskan pup loves everything outdoors, from fetch, to swimming, hiking, and prancing in the snow, this dog does it all. Cami can even make her own snowballs. As you can see, Cami is always down for a nap on the couch, but the moment her human says "golf course," she will, without hesitation, jump up to run around her favorite spot in Nashville, Shelby Golf Course. Shane rescued this adorable pup, after she was left in a box by the side of the road. As you can see, Cami is one happy dog, but she is scared of "anything that moves" according to her human, Shane, so going outside can sometimes be tricky. Recently, however, her human bought her a sporty new hot pink thunder coat, that will hopefully help calm this lovable pup.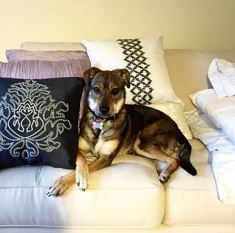 A dog certainly not to be missed, is Charm, dog to admissions counselor Kim Struglinski. Always the poised pooch, Kim fondly calls her, "my little Lucky Charm." Rescued in November 2015, Kim and her lucky Charm are inseparable. Unlike many of her furry counterparts, Charm's favorite place isn't the park or the couch, no, this dog loves the vet. According to her human, "she cries with excitement when we're driving there, and demands that everyone say hi to her when she walks in … she's a bit of a celebrity there." While dog food has its merits, Charm always encourages her human to share, especially when it comes to Cheetos or popcorn. The last thing to know about Charm, is she is not one to spoil the day, she is always ready to greet the day at 5 in the morning, rain or shine.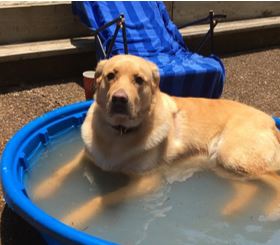 Last but not least, I present The Captain, dog of our fearless leader, Director of Admissions, John Gaines. As you can see, this dog takes his title very seriously. According to his human, ever since The Captain was born, he has always been "in charge." This 90lb yellow lab's two greatest loves are his tennis balls and his pool. When he isn't navigating the treacherous seas, he loves to visit the Dog Park at Harlinsdale Farm in Franklin. One thing to know about The Captain, don't ever talk about his weight, because according to his human, The Captain thinks he is much smaller than he is.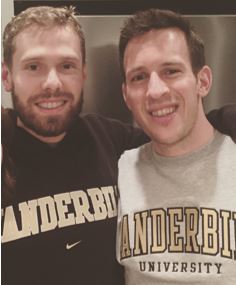 We are also excited to announce that admissions counselor Zeben Ashton and his partner Michael Bieber are soon going to be adding a furry little pet of their own. The newest member of their family is an Apricot Golden Doodle named Myles Conrad Ashton-Bieber who was born on June 3. Zeben and Michael are excited to take him home in only 6 weeks. We are all excited to see pictures of the new puppy!
And there you have it, the good, the adorable, and the somewhat weird quirks of the pets of OUA, Office of Undergraduate Admissions, at Vanderbilt University. These furry, lovable dogs are just one part of what makes our office so great, and I hope you enjoyed meeting them all. Anchor Down!