Road Shows Return!
It's time for the return of the Vanderbilt Road Show! Earlier this summer, our admissions counselors traveled to cities across the country for the first leg of the 2016 VU Road Show. In just a few weeks, they'll be visiting more than 40 more locations, and now is the time to register.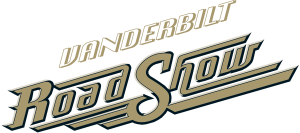 At Vanderbilt Road Shows you'll get to learn more about both VU and the college admissions process. These 90-minute events feature our admissions counselors presenting on important topics like academics, student life, financial aid, the admissions process, living in Nashville, and more. Each Road Show also includes time for questions from you and your parents, so come prepared to find out what you want to know about Vanderbilt. If you're a high school student interested in learning more about life as a Commodore, please come out and say hello when we're in your area.
You can see the full list of cities we'll be visiting below. To learn more and register for the show nearest you, visit our Road Show page.
Don't see your city? Join our mailing list and you'll be among the first to hear about any of our upcoming travel to your area. You'll also get information on campus visit programs, academic offerings, and much more.
We look forward to visiting you soon!
| | | | |
| --- | --- | --- | --- |
| Albuquerque | 8/10/16 | Eldorado High School | Register |
| Arlington | 8/3/16 | Washington-Lee High School | Register |
| Baltimore | 8/1/16 | Gilman School | Register |
| Bethesda | 8/2/16 | Stone Ridge School | Register |
| Boise | 8/8/16 | Bishop Kelly High School | Register |
| Boston | 8/11/16 | Hilton Garden Inn Boston Waltham | Register |
| Chicago (North) | 7/31/16 | Glenbrook South High School | Register |
| Chicago (West) | 8/1/16 | Chicago Marriott O'Hare | Register |
| Cincinnati | 8/1/16 | Cincinnati Country Day School | Register |
| Cleveland | 8/3/16 | St. Edward High School | Register |
| Colorado Springs | 8/9/16 | The Vanguard School | Register |
| Columbus | 8/2/16 | Hilliard Davidson High School | Register |
| Denver | 8/8/16 | Valor Christian High School | Register |
| Detroit | 8/4/16 | Detroit Country Day School | Register |
| Ft. Lauderdale | 8/4/16 | Cooper City High School | Register |
| Greenwich | 8/9/16 | St. Luke's School | Register |
| Jacksonville | 7/31/16 | Bolles School | Register |
| Kansas City | 8/1/16 | Pembroke Hill School | Register |
| LA – Irvine | 8/7/16 | Double Tree Irvine | Register |
| LA – Pasadena | 8/9/16 | Pasadena Hilton | Register |
| LA – Santa Monica | 8/8/16 | Santa Monica Public Library | Register |
| Long Island | 8/8/16 | Jericho High School | Register |
| Madison | 8/3/16 | The Madison Concourse Hotel and Governor's Club | Register |
| Manhattan | 8/8/16 | Club 101 | Register |
| Miami | 8/3/16 | Miami Palmetto Senior High School | Register |
| Milwaukee | 8/2/16 | Whitefish Bay High School | Register |
| Minneapolis | 8/4/16 | Benilde-St. Margaret's | Register |
| Morristown | 8/10/16 | Newark Academy | Register |
| Oklahoma City | 8/4/16 | Heritage Hall School | Register |
| Omaha | 7/31/16 | Doubletree Omaha Southwest | Register |
| Orlando | 8/1/16 | Trinity Preparatory Schooll | Register |
| Philadelphia | 7/31/16 | Hilton Philadelphia City Avenue | Register |
| Phoenix | 8/11/16 | Phoenix Country Day School | Register |
| Princeton | 8/11/16 | Montgomery Middle School | Register |
| Queens | 8/7/16 | Four Points Long Island City/Queensboro Bridge | Register |
| Providence | 8/10/16 | The Wheeler School | Register |
| Sacramento | 8/9/16 | Sacramento Country Day School | Register |
| San Diego | 8/10/16 | Torrey Pines High School | Register |
| San Francisco | 8/10/16 | Hilton Garden Inn San Francisco/Oakland Bay Bridge | Register |
| San Jose | 8/10/16 | Hyatt House San Jose/Silicon Valley | Register |
| Seattle | 8/7/16 | Hyatt Regency Bellevue | Register |
| St. Louis | 8/2/16 | Whitfield School | Register |
| Tampa | 8/2/16 | Berkeley Preparatory School | Register |
| Tulsa | 8/3/16 | Bishop Kelley High School | Register |
| Virginia Beach | 8/4/16 | Hampton Roads Academy | Register |
| Westchester | 8/9/16 | Hilton Westchester | Register |