Up, Up, and Away
Sure, you know about the Vanderbilt Baseball team's national championship after a glorious run through the College World Series last year. And you've probably heard about the VU Women's Tennis team's first national championship earned earlier last month. You may also know about the Women's Bowling team's 2007 national championship, the first for any VU athletics team. But there's a Vanderbilt team sporting a three-time national championship that you may not know about.
Earlier this year, the Vanderbilt Aerospace Club won NASA's prestigious Student Launch Challenge, taking the title for the third year in a row. The Student Launch Challenge—"built around a NASA mission, not textbook knowledge"—addresses NASA's research needs for its Space Launch System. The project requires teams to not only launch a high-powered rocket to a designated height (this year it was 3,000 feet), but also to develop appropriate payloads, vehicle design, and even a team-designed website.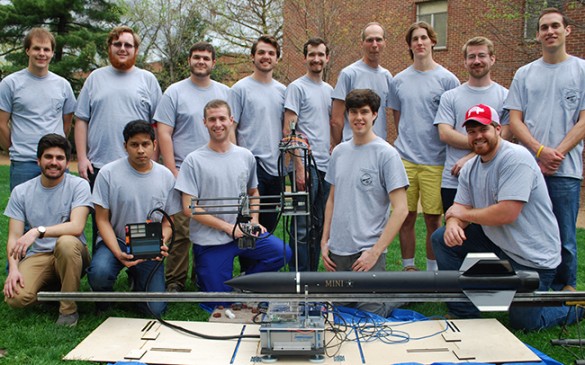 Here are some highlights from this run of success for the Aerospace Club:
In 2013, the Vanderbilt team took home not only first prize but also the Best Payload Design award for its creative bio-hybrid ramjet engines that used carbon-neutral, 100% renewable fuel.
The 2014 competition was held at the historic Bonneville Salt Flats in western Utah, where Vanderbilt's winning rocket reached an altitude of 4,850 feet.
As a part of the 2015 payload design (for which VU took the top prize), teams were challenged to design an autonomous ground support equipment (AGSE) robot that could pick up a simulated Mars sample and place it in the rocket before launch.
You can watch a short video of Vanderbilt's winning 2015 launch below.
This rocket dynasty has been powered in part by Club President Dexter Watkins who recently graduated as a member of the Class of 2015. "It is a tremendous sense of pride to be the first Vanderbilt team to win three national championships," Watkins told Vanderbilt News. You can read more about this year's competition at the Vanderbilt Research News website.