3 Reasons Nashville is Looking Up
Nashville is looking up – literally. In November, Bridgestone America announced a new downtown skyscraper that will house its national headquarters. At 60 stories tall, another newly proposed development would become Nashville's tallest building. This comes in addition to several new downtown high-rise hotels and a massive new convention center. These days, wherever you look in Nashville you see the signs of a booming city.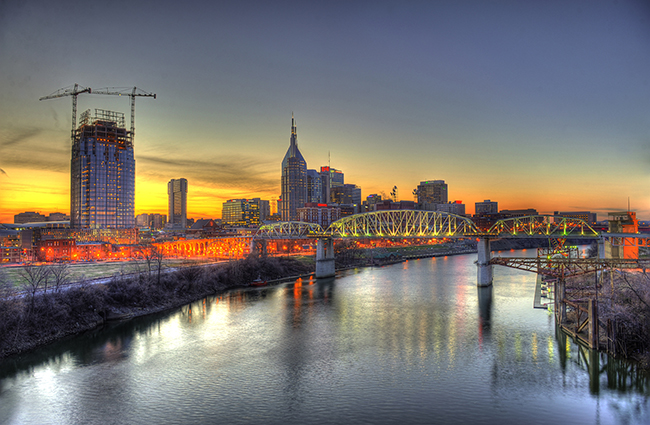 Why is Nashville such a hot destination these days? Here are three reasons:
Nashville is the #1 friendliest city in America, says Travel + Leisure
Each year, Travel + Leisure asks its savvy readers to rank the top destinations in a wide range of categories, and each year Nashville keeps showing up on more and more lists. For the second year in a row, Nashville has been named the #1 friendliest city in America, a fact that no one in Nashville will argue with (see what I did there?). In addition to being honored for our friendliness, Nashville appeared on 11 other of T+L's top five cities lists, including "best barbeque," "safety," and "hip/cool." Of course, Music City was number one for the "concerts" and "music scene" categories. Southern charm, plus safety and an excellent food and music scene, what's not to like?
Nashville is the #2 national destination for college graduates according to the New York Times
Nashville has become a magnet for college-educated young people. As reported by the New York Times, a new study shows that young people are choosing to move to Nashville at an incredible rate.  In the years 2000 to 2012, Nashville's number of college grads aged 25 to 34 nearly doubled, making our home town second only to Houston for this period. "There is a very strong track record of places that attract talent becoming places of long-term success," the Times quotes urban economic expert Edward Glaeser as saying. One reason talented young people are flocking to Nashville is that we've been named one of the country's top cities for jobs – and we keep being named a top city for jobs because so many talented people are moving here. "It's a type of growth that feeds on itself — the more young workers you have, the more companies are interested in locating their operations in that area and the more young people are going to move there," says Glaeser. This is a virtuous cycle that keeps moving Nashville up and up.
Nashville is #3 on Condé Nast Traveler's "30 Places to Visit Before You're 30"
Out of the entire world, Nashville is #3 on Condé Nast Traveler's list of places you should visit while you're young. In fact, it's the top destination in the United States.  Nashville has such great food, music, art, nightlife, and outdoor recreation opportunities that visiting isn't really sufficient to get the full experience. It's much smarter to spend four years exploring the city while you're in college. By that point, of course, you'll probably just want to stay for the great jobs and friendly vibe. Who could blame you!