A Year in Review – 2014 Admissions Blog Posts
Another year will soon pass us by, and what a year it has been. It has been some time since I have connected with you and I am glad to say that I have emerged from Early Decision I impressed at how awesome our class is beginning to shape up. I know that before too long I will be reading about some of our newest Commodores in the Vanderbilt Hustler and some of them will be blogging for us through Inside 'Dores, and I can't wait.
The end of the year causes us to reflect, and in this spirit, I thought it would be fun to recount some of my favorite posts on our admissions blog. I know that I am always looking for something to read as I wait in line to make purchases or wait to board a flight. If you find yourself in the same spot, this will be a good list to get you started. It's been a busy year for us!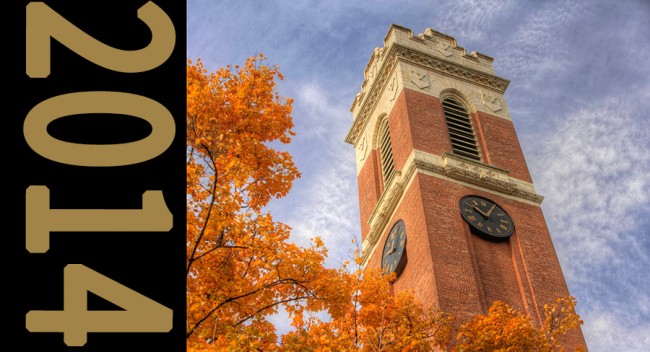 In February, Vanderbilt open a newly expanded recreational center, now dubbed the Vanderbilt Recreation and Wellness Center. From the indoor track to the two new bowling lanes for our champion women's bowling team, there is really no excuse not to keep in shape. (I should really take my own advice and visit the Center more often!) Working out is one thing, but living is another. Vanderbilt guarantees undergraduates four years of housing, so it is always helpful to learn about the different living options we have on campus, including the new Warren and Moore Colleges (and how they're environmentally sustainable). Of course, there is the dynamic city itself – Nashville. These days everyone has an opinion about Nashville, but perhaps the most valuable are those of our current students– see what they had to say about Music City USA. Or read about what you could do during a summer visit to Nashville.
As so perfectly stated by one of cinema's best housekeepers, Mrs. Doubtfire, you come to Vanderbilt to "pump some neurons" and "expand your craniums" (R.I.P Robin Williams). It is important to understand the distinctions among our four undergraduate colleges. Remember that you are not limiting your experience in applying to one of our colleges, but you are choosing an academic home base. Earlier this year, we gave you four things to know about each of our undergraduate schools: School of Engineering, Blair School of Music, Peabody College of Education, and College of Arts and Science. Our campus skyline is due to change again in 2016 with the completion of the new Engineering and Science Building that is now well under construction. Vanderbilt will have yet another venue in which to foster interdisciplinary research. Curious about some of our labs on campus? Try reading about the new Laboratory for Systems Integrity and Reliability (LASIR). Perhaps you were curious about research or our first-year writing seminars? This year we had blog posts about each.
June was a big month for Vanderbilt. I shared some of my experiences traveling through Asia, but the biggest news was that Vanderbilt clinched its second national championship. In fact, as of late November, when talking about our athletic program during my school visits in northern California, people could not contain their enthusiasm. No they were not talking about football, but baseball, where our team took home the national championship. Relive the great winning moment for yourself by re-reading the post. Again. And again.
In August, it was all about love and happiness. I reminded you (and remind you again) of how you can learn about Vanderbilt through some programs that you may want to pencil in as potential times to visit us. But perhaps the easiest way to learn about Vanderbilt is to ask a current undergraduate. After all, Princeton Review called Vanderbilt the happiest college in America. Wouldn't you like to hear why? In fact, we play Pharrell Williams' "Happy" on repeat all day, every day. (I am only kidding.)
This brings us to now – December – which in my opinion should be a happy time for college applicants.  Don't let those deadlines stand in the way of focusing where your attention should be. Mom, Dad, guardian, grandparents, brothers, sisters, friends, and other loved ones all deserve your attention. They've gotten you through the tough times and now that you are putting the finishing touches on your application, it is completely justified that you enjoy time with them. As I have said before, you should aim to get your application in before January 1st so you can actually ring in 2015 in a fun and unforgettable way.