Faculty View: First-year Writing Seminars, Part 2
And now we continue where we left off with our look at the First-year Writing Seminars from the faculty perspective. . .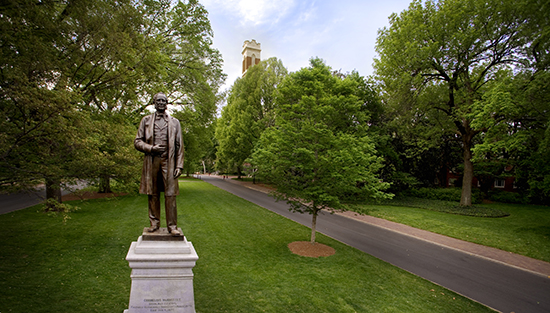 Adam Meyer, Associate Professor of Jewish Studies
Civil Rights and Civil Wrongs:  Black-Jewish Relations in the 1950s and 1960s
"Teaching a First-Year Writing Seminar is one of the aspects of being a Vanderbilt faculty member that I enjoy the most.  First-year students are so enthusiastic and eager about learning that they are a pleasure to work with.  They also appreciate the opportunity that they have been given to participate in such a small class and to work so closely with a seasoned professor, something that many of their friends from home don't have at their institutions.  I really feel like I can have a hand in molding the first-year students, particularly in terms of their writing skills, and getting them off to a positive start on their Vanderbilt careers.  Seeing the growth in the students from the beginning of the semester to the end really makes me feel that my teaching has had a direct, beneficial impact, and that's the ultimate gratification for any educator."
Patricia Kelly, Senior Lecturer in Economics
Freakonomics
"I enjoy teaching Freakonomics because the course explores interesting and unexpected economic behavior in a small class setting that promotes discussion and collaboration, and makes it possible to meet with students regularly outside of class to give feedback on their writing and to become better acquainted with them."
Colin Dayan, Robert Penn Warren Professor in the Humanities
Representations of Haiti: or, what is a metaphor a metaphor for?
"Following the catastrophic earthquake in Haiti on January 12, 2010, I decided to introduce Haitian history, politics, and literature to students in a Freshman Seminar. "Representations of Haiti: or, what is a metaphor a metaphor for?" was one of the best experiences I have had at Vanderbilt.  Students focused on close reading and on writing, as they discovered a place too often misunderstood or misrepresented in academic and popular history.  A diverse group of students with varied interests joined in spirited discussion and debate, and three of the most original and vibrant continued to study with me and remain in touch since their graduation."
David Schlundt, Associate Professor of Psychology
The Psychology of Eating Disorders
"I use this class as an opportunity to give the students a rather complete overview of clinical psychology from research methods to theory to assessment to treatment.  My first-year students come to Vanderbilt with good basic writing skills. However, they have had little opportunity in the past to write for the social sciences.  We learn all about finding, reading, and writing about scientific studies.  It is hard for the students at first, but by the end of the semester they are able to write a critical scientific review paper looking at a question related to eating disorders.  I love seeing how much skill building occurs from the first outline of the first paper to the final product at the end of the semester. Last spring, one of my former freshman seminar students was accepted into a Ph.D. program in clinical psychology."
Carrie Russell, Senior Lecturer in Political Science
American Constitutional Law:  Civil Rights and Civil Liberties
"I particularly enjoy teaching this course in the fall, when the students are excited about being at Vanderbilt and eager to learn.  Teaching first semester freshmen is a joy because the students are engaged and ready to work.  In our class, we conduct a Moot Court tournament at the end of the semester – where the students apply the lessons they have learned throughout the semester (the writing skills and the analytical thinking skills) to a concrete First Amendment problem.  That is always my favorite part; watching students think on their feet and make cogent legal arguments is a great reward for any pre-law professor. At times I am surprised by the variation in writing skill amongst the students at the beginning of the semester.  So I love it when a student who struggles in the beginning of the semester takes the writing lessons to heart, goes to the writing studio, comes to office hours and markedly improves by the end of the semester."
Paul Miller, Assistant Professor of French and Latin American Studies
Nobel Laureates in Literature from Latin America and the Caribbean
"I can say that this class is quite simply the most passionate and intellectually inquisitive group I have ever had at Vanderbilt.  I can never come close to covering the material I have prepared for our meetings, such is the level of enthusiasm the students bring for questioning, commenting and discussing.  Anyone who is concerned about the crisis of the humanities in higher education should attend the seminar to see to what degree students care about the issues raised in a liberal arts context."
As you can see, A&S students are learning from faculty who are deeply committed to student success and extremely excited about bringing students into the intellectual life of Vanderbilt. And regardless of which subject area students ultimately pursue, the writing and reasoning skills they develop during their first-year writing seminars serve as a foundation for the rest of their academic careers.