The (Black and) Gold in Sustainability
Vanderbilt's efforts at sustainability and environmental friendliness are impressive. In the last year alone, SustainVU, Vanderbilt's umbrella initiative for sustainability, has included the conversion of the VU power plant from coal to natural gas, massive cardboard recycling at first-year move in, promotion of local food in dining halls, and much more.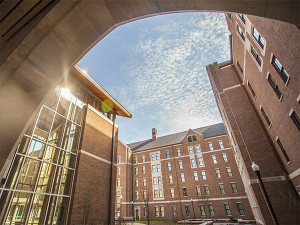 Vanderbilt continues to do its part to contribute to a more sustainable environment with its newest campus residence halls. Not only do Warren and Moore Colleges provide upperclassmen with the benefits of a living-learning environment, but they are also LEED-certified for energy efficiency and environmental friendliness.
LEED-certification brings recognition of a building's sustainability – the acronym stands for Leadership in Energy and Environmental Design. Vanderbilt's Warren and Moore Colleges are LEED Gold-certified, which means that from the very start of the building process all the way through its completion, Warren and Moore use sustainable elements like promoting clean transportation by providing more spaces to store bikes and integrating motion-sensing lighting, among other features. Buildings are awarded points based on a variety of factors with four types of LEED-certifications denoting the number of points received. Gold is behind only the platinum standard (and fits quite nicely with our Black and Gold colors).
I recall the jingle "recycle, reuse, reduce, and close the loop" from elementary school as I think about LEED-certified projects. Not only are Warren and Moore Colleges beautiful and environmentally-friendly buildings, but their design actually uses environmental friendliness to enhance the beauty:  as you walk around the Colleges, you will see recycled and reused reminders of the Kissam Quadrangle, the old residence halls that once stood in its place, like old grates that are now used as décor statements.
Warren and Moore aren't Vanderbilt's only LEED Gold-certified buildings. In fact, there are 15 total LEED Gold buildings on campus including Central Library, Benson Hall, and The Martha Rivers Ingram Commons. It's good to be gold!