School of Engineering Opens Massive New Lab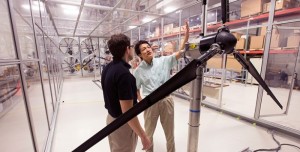 Last month, the School of Engineering opened the massive new Laboratory for Systems Integrity and Reliability (LASIR), a groundbreaking new research space. How big is this new lab? Big enough to house a Humvee, a wind tunnel, and the airframe of a military helicopter, with room to spare. Check out the video below to watch the giant CH-53A Super Stallion helicopter going into the warehouse-sized lab.
The new 20,000-square-foot lab is dedicated to the study of infrastructure security, growing energy demand, and optimization of new high-tech manufacturing materials. Douglas Adams, the lab's director and chair of Civil and Environmental Engineering and Distinguished Professor of Civil Engineering, explains that the lab's size will allow Vanderbilt scholars to "do experiments on air craft, on wind turbines, on full scale systems," in order to get as close as possible to real-world settings. You can read more about this new lab, including the innovative new system developed to detect damage in the frames of next-generation aircraft like the CH-53A helicopter, at the School of Engineering web site.