Why Are Vanderbilt Students So Happy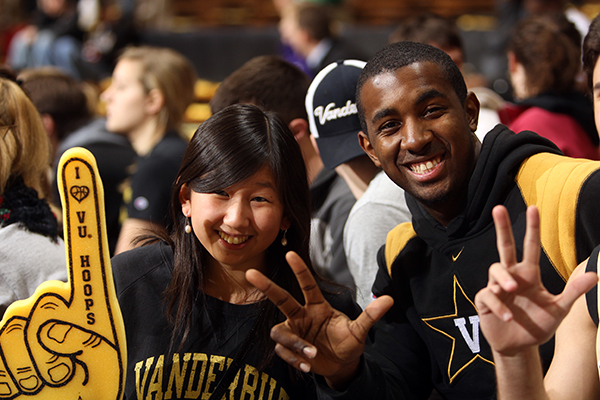 A new ranking from The Princeton Review confirms a fact that's plain to anyone who steps foot on campus:  Vanderbilt students are happy. In fact, the new ranking puts Vanderbilt as the #1 happiest student body in the land. If you know Vanderbilt students, this ranking won't come as a surprise because they are a really happy group. What accounts for this Pharrell-level of student happiness?  Here are a few ideas:
Balance. Vanderbilt students enjoy an unparalleled balance of advanced academics and life outside of the classroom. Sure, this is a top 20 school where students are engaged in high-level research and scholarship, but what happens in class is only a part of life here. Vanderbilt students are passionate about the arts, music, sports, Greek life, service, business, politics, and more. With over 500 student organizations, the list goes on and on. Imagine a finals study break on the lawn with Kid Cudi, The National, and half a dozen rising performing artists. That's Rites of Spring, VU's annual pre-finals music festival, and that's the kind of balance that puts a smile on the faces of Vanderbilt students.
Affordability. Financial aid that's need-blind, meets 100% of demonstrated need, and includes grants rather than loans – that's the kind of affordability that makes for happy students. Approximately two thirds of undergraduates receive some form of financial assistance, and the average financial aid package for the 2013/2014 year was $44,720. Knowing that your education is a great value has to be a factor in the happiness of Vanderbilt students.
Academic Community. "Vanderbilt isn't competitive," I often hear students say. It's a place where you can get a great education surrounded by excellent peers – without feeling competitive pressure or cutthroat rivalry with other students. The atmosphere at Vanderbilt is simultaneously challenging and collaborative. Perhaps this is something that grows out of the first-year experience at The Martha Rivers Ingram Commons, where new students bond together over the friendly competition of the Commons Cup and enjoy the support of upper class students and Faculty Heads of House.
Diversity. Vanderbilt students come from a broad array of backgrounds, from across the country and around the world. The wide range of experiences and interests they bring with them makes the Vanderbilt community an incredibly vibrant and welcoming place. In my experience, VU students love the fact that they're able to make new friends from such an interesting and diverse mix of students.
Nashville. Vanderbilt students get to live in the heart of the place The New York Times recently called "America's next 'It' city." Combining cosmopolitan flair with southern hospitality, Nashville is undoubtedly one of the coolest places in the world to be a college student. With an incredible music scene that is so much more than country and a food culture that goes beyond the meat-and-three, Nashville is full of surprises.
These are just my theories. Check out the videos below to hear current Vanderbilt students talking about what makes them happy.