The 'Dores are National Champions!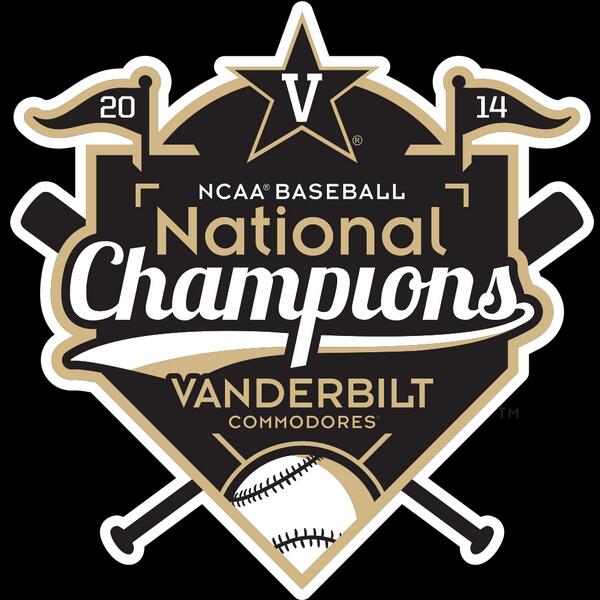 The Vanderbilt Commodores are the 2014 national champions of college baseball! Congratulations to Coach Tim Corbin and his team on a remarkable season. On Wednesday they capped by a tremendous run through the NCAA tournament with a hard-fought 3-2 victory over a very talented Virginia team. The win summed up the Commodore season perfectly; it was a close game with great pitching and VU came up with the big hit in the clutch.
Here's a game summary in gif form:
First Vanderbilt conquered.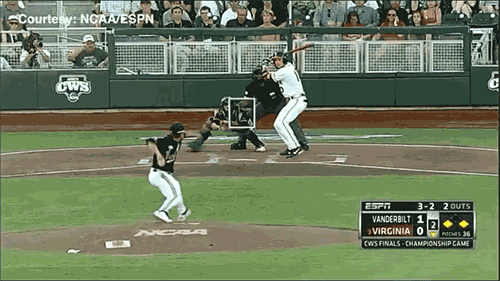 Then they prevailed.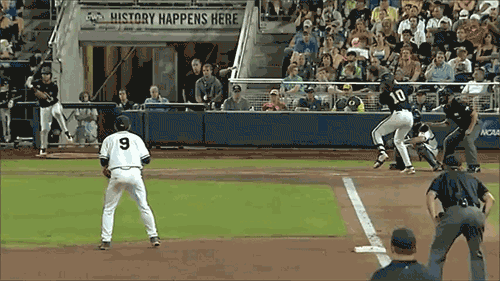 Finally, they anchored down.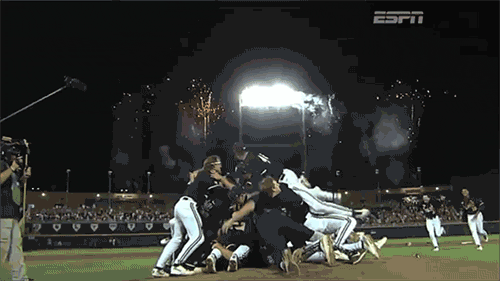 Despite the huge stars who've been a part of Commodore Baseball in recent years, like David Price, Sonny Gray, and Pedro Alvarez, this is the first VU team to make it to the finals, let alone take home the trophy. In fact, this is the first national championship for any men's team at VU, and this team joins the 2007 Women's Bowling team as Vanderbilt's other team to take home a national championship.
This was a special season from a special team. And as you can see below, Commodore Nation is proud of the #VandyBoys!
This is why you go to college!!! A very different/special program…Corbs is a LIFE changer!! #anchordown #specialman pic.twitter.com/0KFZy5etJQ

— David Price (@DAVIDprice14) June 26, 2014
From academics to sports to the hottest city in the country, it's a great time to be in the @VanderbiltU family. Congrats, @VandyBaseball! — Willie Geist (@WillieGeist) June 26, 2014
Watch Mayor Karl Dean congratulate the @VandyBaseball team on their victory in Omaha. http://t.co/X9pz6UhjMY — VanderbiltUniversity (@VanderbiltU) June 26, 2014
VANDY WINS!!!!!!!!!!!!!!! @VandyBaseball #CWSFinals #CWS2014 AHHHHHHHH!!! WOOHOOOOOO!!!! CHAMPIONS!!! Insert me running down plane aisle! — Shawn Johnson (@ShawnJohnson) June 26, 2014
Just Landed back in Nashville…Congratulations to VBB for winning the CWS. Mission accomplished and job well done. You did it! you did it!

— Derek Mason (@CoachDerekMason) June 26, 2014
Congrats to @VandyBaseball especially Tim freaking Corbin! I am so pumped up right now! Yeassssssssss — Sonny Gray (@SonnyGray2) June 26, 2014
Check out Vanderbilt's win on today's front pages http://t.co/vT3xMuBpkw Mobile link: http://t.co/WaztJpvY4D pic.twitter.com/wC5duADaXk

— The Tennessean (@Tennessean) June 26, 2014
Never been more proud to be a part of Commodore nation. @TimCorbin @VandyBaseball The power of belief is undeniable!! #proudtobeVU

— Brandt Snedeker (@BrandtSnedeker) June 26, 2014