Summer Break – Student Blogger Edition
Summer is a wonderful time at Vanderbilt. I enjoy meeting a lot of fantastic prospective students visiting at PreVU, our summer open house for rising seniors. I also like to visit Vanderbilt's on-campus farmer's market for delicious local fruits and veggies. And of course, this year I've relished the excitement of watching the #VandyBoys compete to take home the trophy at the College World Series.
As fun as summer is, I miss seeing some of my favorite students, the Inside 'Dores student bloggers, while they're away for summer break. A few of the Inside 'Dores have been posting about their summer adventures on the blog. You can read about Ann Yeh's amazing Maymester course in Switzerland or Jae Maeng's work in Bolivia on the Child Family Health International program. Curious about what the rest of the group was up to, I fired off a few emails to the bloggers. Below are some of the fascinating things they're doing this summer. Keep an eye on Inside 'Dores for more from them as the summer unfolds.
Priyanka Aribindi, Class of 2016, College of Arts & Sciences, Hinsdale, IL: This summer I'm working as an editorial intern at Real Simple, a women's lifestyle magazine at Time Inc. I'm really excited to be living in New York City until my internship is over in August. Then I'm home for a few days until I head back to Nashville to get a head start on the first edition of the paper with the rest of the The Vanderbilt Hustler editorial board. I have a feeling this summer will fly by faster than I'd like, but it'll definitely be the best one yet!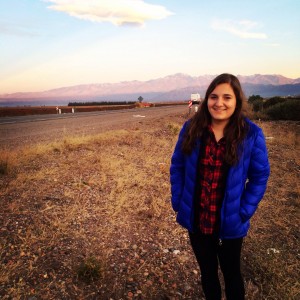 Allie Khodadadi, Class of 2015, College of Arts & Science, Auburn, AL: I am spending the summer in Buenos Aires, Argentina! I am working in a public hospital in the city, and also practicing my Spanish through Spanish lessons.
Samantha Orland, Class of 2015, Peabody College, Plano, TX: This summer I am interning as a brand planner at a large advertising agency in Dallas, TX, called The Richards Group. As a planner, I have the opportunity to strategize for some of the agency's biggest clients, including Ram, Fiat, Chuck E. Cheese's, and The Home Depot. Each day I get to collaborate with creatives and brand managers to develop ideas for campaigns and get inside the heads of consumers. A class I took at Vanderbilt last fall, Intro to Creative Advertising, is what actually inspired me to get into advertising, so it's awesome to get hands-on experience with briefs and real clients. I am enjoying all of the (very little) free time I have by singing in church choir, exploring Dallas's museum district, and eating lots of sno-cones.
Alisha Newton, Class of 2017, College of Arts & Science, Waxhaw, NC: I'm in South Africa on an OACS Global Service Project. I can blog all about it when I return!
Jae Maeng, Class of 2015, College of Arts & Science, Nashville, TN: This summer, I will spend the month of May in Tarija, Bolivia where I will shadow physicians in local clinics and hospitals while practicing my Spanish. When I return, I will spend the rest of the summer buckling down and studying for the MCAT which I will be taking late August. Finally, I will be watching my South Korea bring home the World Cup.
Heather Jackson, Class of 2017, College of Arts & Science, Columbia, KY: After I catch up on Mad Men and finally watch all of House of Cards, I will be working at a summer camp for quiz bowl players! I'll be teaching a class on English literature, and I could not be more excited to rant and rave about some of my favorite authors (and get paid doing it)! After that, I am hitting the beach and getting a head start on some of my reading for the fall. I am also starting to study for the LSAT, so that should be an adventure. While catching up with friends and cooking in a real kitchen with my family is always a delight, I am anxiously awaiting the fall semester!