New Construction: The Engineering and Science Building
In April, the fence surrounding the construction site of Warren and Moore Colleges (up since the summer of 2012) finally came down, revealing an incredible new residential complex. This month, new fences are going up across campus for the construction of the new Engineering and Science Building, a 230,000-square-foot facility that will accommodate Vanderbilt's expanding research goals. Aside from a short break for Commencement, it seems there's no rest when it comes to amazing new campus buildings.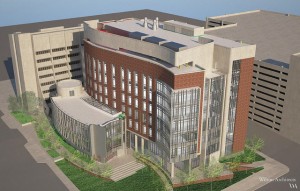 The new seven-story structure will be located at the corner of 25th Avenue and Highland Avenue, next to Olin Hall, home to the mechanical engineering, and chemical and bimolecular engineering, departments. In fact, the new building will adjoin Olin through a two-story atrium space.  As you can see, the artist renderings show a structure that will blend with campus architecture, while still having a modern flair.
The Engineering and Science Building will showcase Vanderbilt's interdisciplinary mix of science and engineering and strengthen facilities available for our scholars, particularly for our researchers, entrepreneurs, and innovators. With spaces designed to facilitate team project work and research laboratories geared toward interdisciplinary study, the Engineering and Science building will help bring together students and faculty from different areas of study.
In announcing this latest addition to campus, Philippe Fauchet, dean of the School of Engineering, said it will contain "a commercial-grade clean room to support growing nanoscale engineering and science research, several classrooms, an Undergraduate Commons area for student collaboration, an Innovation Center to support our strengthening culture of entrepreneurship and interdisciplinary collaboration, and room for future expansion." That Undergraduate Commons area should be particularly interesting for prospective undergraduates. It not only shows Vanderbilt's interest in connecting undergraduates with faculty and other researchers, but also demonstrates how centrally important the undergraduate experience is at Vanderbilt.
The new building is scheduled to be completed in the summer of 2016 – which means current high school seniors will have access to the brand new facilities by fall of their sophomore year at Vanderbilt. Until then, you can view more artist renderings of the Engineering and Science Building on the School of Engineering's Flickr account.