From the Students: Why Did You Choose VU?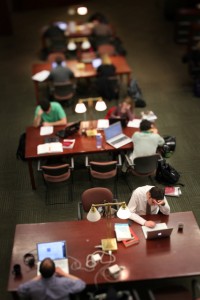 Since most of you have now received all of your admissions decisions and are in the midst of making college enrollment decisions, we want to make sure that you receive the best and most helpful information possible.  And who better than our current students to help you understand what life as a Commodore is really like?
Over the next couple of weeks, we will ask current students questions about their Vanderbilt experiences and we'll post the responses here on the blog.  Today's question: What made you decide to enroll at Vanderbilt?
"One of the critical decisions for me was the flexibility in Vanderbilt's curriculum.  I knew that as a student at VU, I would have ample time to explore my options and find the right major for me. What was comforting to me was that no matter what school or major I chose within Vanderbilt, I knew that it was going to be a great program, with highly qualified and experienced professors that would ultimately prepare me well for any profession after VU." Luke Anapolis, College of Arts and Science, Class of 2014, Niskayuna, NY
"I think for me it came down to three reasons. The first one was financial – Vanderbilt by far offered me the most financial support. The second reason was that I wanted to focus on an interdisciplinary track throughout my academic career.  In high school, I had done research in various different fields of science, and I realized I wanted to study engineering in college but also enter the medical field. At Vanderbilt, it's incredibly easy to manage multiple academic disciplines at once. With the way the curriculum is set up, and the opportunities available here, I can major in Chemical Engineering and still be pre-med, have access to world class facilities in the Medical School, and also, beyond academics, be able to pursue my other passion – filmmaking – through the form of student organization promo videos and other projects.  The final reason was the passion and vibrancy I noticed on campus when I visited and talked to current students. Each student here is so involved, passionate and active in some field and there is a thread of energy that permeates campus, which really motivates you to step outside your comfort zone and realize your potential in the form of academics, extracurriculars and personal development." Pranjal Gupta, School of Engineering, Class of 2016, Auburn, AL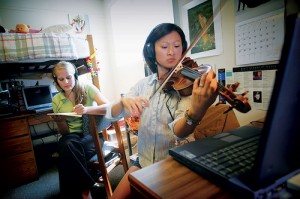 "I was looking at lots of schools, mostly in the Northeast, Midwest, and West Coast. Vanderbilt, while being an extremely unique university, offered similar things to most of the schools I visited: fantastic academics, research opportunities, a million-and-a-half extracurriculars. The thing that made Vanderbilt stand out from every other university I visited was the people. I immediately felt welcomed on campus and knew it was the place I was meant to be. When I first visited I couldn't completely fathom the number of amazing people I would meet during my four years here." Roo George-Warren, Blair School of Music, Class of 2014, Rock Hill, SC
"For me, coming to Vanderbilt was about coming home.  My parents met at Vanderbilt Medical Center, and I was born there before we moved to my hometown when I was two months old.  Growing up, I felt a part of the Vanderbilt community as I heard my parents' stories, attended Commodore sporting events, and met their friends from their days here in Nashville.  I knew that by choosing Vanderbilt, I would choose not only a challenging academic environment, but also a diverse, passionate community that would be with me for my whole life.  I have not been disappointed on either count: I will leave Vanderbilt not only with the myriad academic, extracurricular, social, and cultural experiences that make our university special, but also with friends who will continue to support and sharpen me long beyond our days here on campus." Emily Morrow, College of Arts & Science, Class of 2014, Mobile, AL
"I was looking for a home away from home!  I found that undergraduate support, care, and warmth when I set foot on Vanderbilt's campus!  I came to Vanderbilt specifically with the goal of going into non-profit work after studying Human and Organizational Development.  Coming to campus, I instantly fell in love with Vanderbilt's service-oriented culture and how many opportunities there are available for students to utilize their passions, interests, and skills to directly serve and give back to the community as aware, intellectual citizens.  It never ceases to amaze me how lucky I am to be attending a university that financially supports its students so much with opportunities to serve."   Lauren Pak, Peabody College of Education and Human Development, Class of 2017, Los Angeles, CA
"One thing Vanderbilt offered that I couldn't find anywhere else was an incredible sense of balance. I loved that this school had both high caliber academics and a a social life. You don't have to pick just one! We have SEC culture and top 20 academics…what more could you want?" Sarah Hendrix, College of Arts and Science, Class of 2015, Dallas, TX
"For me, three things in particular really stuck out that differentiated Vanderbilt from other schools. First, students were incredibly passionate and invested in everything they were doing–whether it was academics or extracurriculars, Vandy students throw themselves fully into every aspect of life and I love that. I also love the campus. It has the traditional, contained campus feel, but then we're also just a few minutes away from the heart of downtown Nashville. It's an amazing combination. Finally, I love the size. Vandy is big enough that I'm still meeting new people as a senior, but also small enough that I see friends in passing during the day and it really does feel like a community." Victoria Barner, College of Arts and Science, Class of 2014, Naples, FL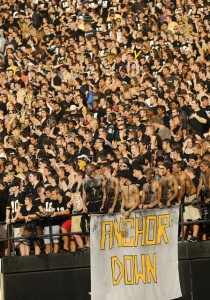 "Vanderbilt offers the perfect transition into college, which really set it apart from the rest. I was blown away by the first-year experience of The Ingram Commons that allows for students to connect with peers and faculty throughout the ten Houses, and I loved the sense of camaraderie shared among the first-year students. Vanderbilt is the only school in the SEC where the majority of its students don't come from in-state, and The Commons allowed us to make friends from across the globe."  Lucie Calderon, College of Arts and Science, Class of 2014, Baton Rouge, LA
"When I stepped onto campus, I was energetically greeted by my host and all her floor mates. Their enthusiasm and genuine happiness stuck with me throughout the weekend. They took me to dinner at the Pub – a casual burger joint on campus – where they told me of all the different organizations, classes, and activities on campus. From what they told me, I knew I wouldn't have any trouble finding a group of friends with whom I would fit. As we ate, we were surrounded by students cheering on our basketball team, which was playing in the March Madness tournament on TV. I noticed here the strong school spirit that I had been hoping for in my college.  Throughout the rest of my visit, I got to sit in and participate in several classes. What shocked me was that in a lecture-style class of about twenty, students were working with each other collaboratively; students were actively participating and answering each other's questions. The professor fostered discussion among peers, and I felt the sense of strong academics without cut-throat competition.  By the end of my visit, I had learned of the wide variety of activities on campus, seen a classroom setting in which I would feel both challenged and comfortable, been surrounded by the lively school spirit, and had the chance to talk with students who genuinely loved Vanderbilt and its surrounding Nashville."  Shannon O'Reilly, College of Arts and Science, Class of 2015, Burlingame, CA
"For me, it was all about the people.  I still like to tell my tour groups that I think 90% of your college experience is about the people and the environment.  At Vanderbilt, there are exceptional people doing exceptional things.  It is hard to be surrounded by the environment here and NOT want to wake up every day and give life your absolutely best effort–because it seems like everyone here on campus is doing exactly that." Jack Delehey, College of Arts and Science, Class of 2014, Concord, MA